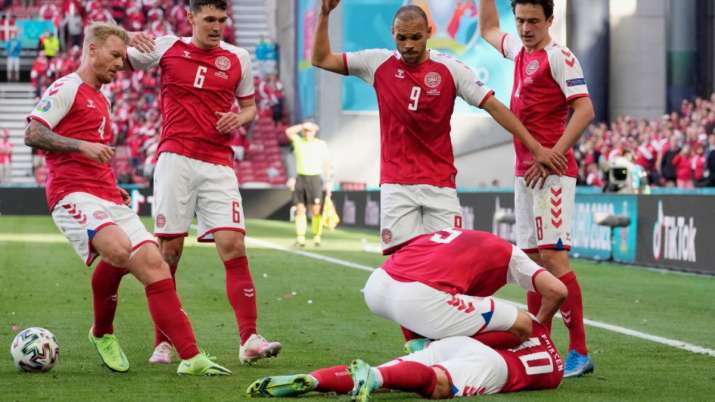 Denmark's midfield superstar Christian Eriksen sent shockwaves across the world a few minutes from the half-time whistle when he collapsed on the field due to some unknown reason during a EURO 2020 match vs Finland. The referee immediately halted the match post Eriksen collapsed and fell face-first minutes before the half-time. Denmark captain Simon Kjaer came to the rescue of his teammate by responding to the situation with such a life-saving speed.
 It was the man with the armband — Simon Kjaer escorted Eriksen off the ground along with the medical staff and the rest of his squad, also trying to make sure that photographers did not get a picture of the Inter Milan player. After, he guided his teammates to cover Eriksen while he received medical treatment. The world also witnessed Simon Kjaer and Kasper Schmeichel consoled Eriksen's wife Sabrina who was reduced to tears at the edge of the touchline. Nothing but respect for The AC Milan defender and how he handled a tough situation as well as led from the front.
The Danish team doctor has confirmed that Christian Eriksen suffered a cardiac arrest when he collapsed during his side's Euro 2020 opening match vs Finland. Morten Boesen while interacting with media was quoted saying "He was gone; we did cardiac resuscitation; it was a cardiac arrest. We got him back after one defib (defibrillation). The exams that have been done so far look fine. We don't have an explanation as to why it happened."
As per the latest development, Christian Eriksen is all set to join the English Premier League team Brentford who has offered Dane a six-month contract. Brentford has offered Eriksen a six-month contract with the option to extend for a further year, as reported by the Athletic.
Eriksen is a free agent post coming to an agreement with former club Inter Milan last month. The main reason for leaving the club was that Serie A rules do not allow players with an ICD to compete in matches. For the time being, Eriksen has been training at Odense, which is his old club in Denmark, and he believes this month that he feels ready to come back.
His next plan of action is to play in the World Cup in Qatar and was quoted saying "I want to play. That's been my mindset all along. It's a goal, a dream. Whether I'll be picked is another thing. But it's my dream to come back. I'm sure I can because I don't feel any different. Physically, I'm back in top shape."