We have been blessed to be born in a nation where have many great women who bring us the hope that every girl has the potential to achieve whatever she wants to. They have risen to the top in their fields and are not only reminders of the legacy that they leave behind, but also a guiding light of hope for future generations. In the recent past, we have been inspired by the life journey of determined women from across India, making their presence felt in varied fields and their stellar achievements bring laurels to the nation.  To name a few, such as Kalpana Chawla, Sunita Williams and Sirisha Bandla.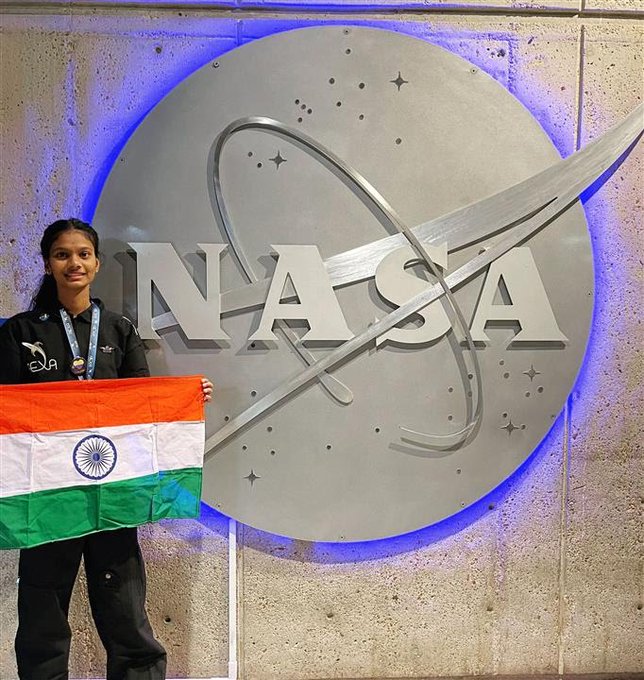 Jahnavi Dangeti has created history by becoming the only #Indian to have been selected to undergo International Air and Space Program (#IASP) at #NASA Launch Operations' Kennedy Space Centre in #Alabama, #USA. IASP selects only 20 young people from across the world for this programme. In her childhood grew up listening to Chadamama Kathaku and other inspirational bedtime Stories from her grandmother. At a very young age, she hoped to reach the stars and maybe be on her way to fulfilling her dreams. While interacting with the media, Jahnavi was quoted saying 'I dream of being one of the first Indians to set foot on Mars.'
Jahnavi Dangeti recently completed the astronaut course from Kennedy Space Centre. While undergoing the course she participated in various activities such as Zero Gravity, multi-access training and underwater rocket launch as well as piloted an aircraft too.
While undergoing a training programme, she was appointed as the mission director for Team Kennedy, in which she commanded a group of 16 people from various countries. She and her team successfully launched and landed a miniature rocket into the sky. In a short time, Jahnavi has earned a lot of accolades such as being the vice-president of Space Magica, a start-up astronaut training centre for students and the general public. She has been a campus ambassador for numerous organisations, including Star (Space Technology and Aeronautical Rocketry), an Indian private aerospace company. Jahnavi is a member of the International Organization of Aspiring Astronauts (IOAA).
While interacting with the media was quoted saying, "I even got a scholarship from a Mexican company for the IASP programme. As a step towards my astronaut journey, I have trained in open water scuba diving in various places, including in Visakhapatnam. Now, I am a Scuba Schools International-certified open water scuba diver."
She further added "I am taking every opportunity to reach my dream by participating in various projects, workshops and hackathons. I have worked diligently analysing images caught by the Pan-STARRS satellite in pursuit of unexposed asteroids. Our team made 16 preliminary discoveries and spotted one provisional discovery."
Jahnavi is currently pursuing her engineering second year at Lovely Professional University in Punjab. She participated in many events and workshops of Nasa, Isro and other space agencies.