We have been blessed to born in a nation where have many great women who bring us the hope that every girl has the potential to achieve whatever she wants to. They have risen to the top in their fields and are not only reminders of the legacy that they leave behind, but also guiding light of hope for future generations. In recent past we have been inspired by life journey of determined women from across India, make their presence felt in varied fields and their stellar achievements bring laurels to the nation. Such us Kiran Bedi, Cornelia Sorabji, Reita Faria Powel, Shila Dawre, Mother Teresa, Indira Gandhi, Kalpana Chawla, Laxmi Agarwal, Hima Das, Arunima Sinha, Mithali Raj, Sania Mirza, Saina Nehwal, Priyanka Chopra, Mary Kom, Indra Nooyi, and PV Sindhu to name a few.
Today let's talk about another inspiring story of the 24-year-old, who has become the first woman fighter pilot in the Indian Air Force (IAF) from Rajouri district.  Mawya Sudan hails from the village of Lamberi, of Border Tehsil of Nowshera in Rajouri. In doing so, she has become the 12th woman officer as well as first from Rajouri to be inducted as a fighter pilot in the IAF. The whole nation is proud of her feet which she had achieved and sent social media into meltdown when she was commissioned into the IAF as a Flying Officer.
Air Chief Marshal Rakesh Kumar Singh Bhadauria reviewed the combined graduation passing out parade, took place on Saturday at the Air Force Academy, Dundigal, Hyderabad.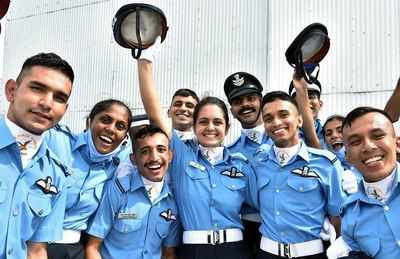 While interacting with the media about her daughter's achievement, Mawya's father Vinod Sudan was quoted saying "I am feeling proud. Now she is not just our daughter but a daughter of this country. We have been receiving congratulatory messages since yesterday." Further The fighter pilot's sister, Manyata Sudan also informed that from a very young age, Mawya was interested to join Air Force and become a fighter pilot.
Manyata Sudan, who is a JE in Shri Mata Vaishno Devi Shrine Board, was quoted saying "I am incredibly proud of my younger sister. This was her dream since childhood. I am sure she will add to her laurels soon. This is just the beginning. Everyone is treating her like her own daughter. People from all over the country are supporting and motivating her. It is an inspiring story for everyone."
Flying officer Mavya will start undergoing rigorous flight training for more than a year before she can become 'fully operational; as a fighter pilot and take care of intricacy related to the combat flying. A while back Flight Lieutenants Avani Chaturvedi, Bhawana Kanth and Mohana Singh became the first women to be commissioned as flying officers into the fighter stream after basic training in June 2016.
Today they are flying jets such as MiG-21s, also broke the glass ceiling of the long-standing combat-exclusion policy for women in the Indian armed forces. IAF currently has 11 women fighter pilots, who have undergone the arduous training to fly supersonic jets. If sources are to believe It takes around Rs 15 crore to train a single fighter pilot.