Sergio 'Kun' Aguero is one of the most respected and biggest names in world of football. He hails from Buenos Aires, Argentina. Sergio was raised in a huge family, and has six siblings. His is father, Leonel, was a taxi driver, while his mother, Adriana, was a homemaker. His father also played football in his youth but was not very keen on building a career in the game. But his passion for the game was carried by son Sergio. 
Due to family financial troubles, Leonel decided to take up the mantle to train his son as they couldn't afford to enrol his son into a football academy. But destiny had great things planed for the youngster played with their junior division, till he was finally made his debut in a match against 'Club Atlético' in 2003.
Agüero created a record when he became the youngest player ever to feature in a top flight game in Argentina and in doing so broke the record set by his future father-in-law Diego Maradona.  At 17-year-old, he was bought by Atlético Madrid for 21-million-euro transfer which was a new club record and this has been broken by likes of Joao Fèlix, Diego Costa, Antoine Griezmann and Thomas Lemar.
Despite his comfortable stint with 'Atlético Madrid,' Sergio aimed for bigger things and in July 2011 City signed with Manchester City for £38 million from Atletico Madrid. He was handed over the No. 16 shirt and given a five-year deal, much to the excitement of the city fans as he was one of the most talented young strikers in the world at the time. He lived upto the expectation of the fans and owner by becoming one of the greatest goal scorers the English game has ever seen, scoring 257 goals in 384 appearances for City in all competitions.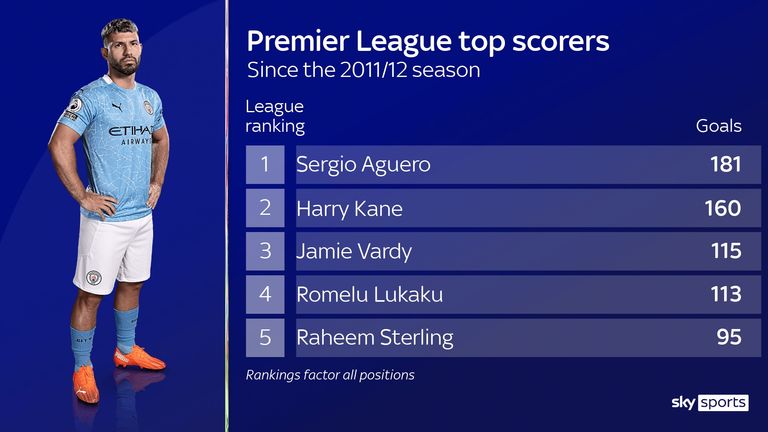 He is also the highest-scoring overseas player in Premier League history with 181 goals. Sergio is also City's all-time leading goal scorer and also the third-highest goal scorer in Premier League history. Aguero's departure from the club will be end of an era given which will make him the final player to leave from Manchester City's first Premier League-winning squad, way back in 2011/12.  Pep Guardiola has confirmed that Sergio Aguero is set to join Barcelona after leaving Manchester City and was quoted saying "I'm pretty sure, maybe I reveal a secret. Maybe he is close to agreeing a deal for the club of my heart – for Barcelona."
It's official Sergio Aguero has signed a contract with Barcelona on a two-year deal and will be joining the club starting on July 1, after his contract with Manchester City expires. If sources are to believe Sergio contract until the end of the 2022-23 season with a buyout clause set at 100 million euros ($122 million). The 32-year-old Argentine was introduced by Barcelona to the Spanish media and also underwent a medical in the morning. He had troublesome last season at City and was plagued by injuries as well as had knee surgery last year.
Barcelona missed a true striker after letting go Luis Suarez, who eventually helped Atletico Madrid to win the Spanish league title. Lionel Messi still thrived as expected usual, finishing as the Spanish league's top scorer with 30 goals, but he got little help from teammates which consisted of Antoine Griezmann, Ousmane Dembele, Martin Braithwaite, Ansu Fati and Francisco Trincao.
Lionel Messi and Sergio Aguero have a long relationship going back to when they were teenagers playing in the Argentinian U-20 World Cup side. Sergio Aguero on many occasions has revealed he and Lionel Messi are 'like an old married couple' when they are on Argentina duty together. Also it is interesting to note that Leo Messi is godfather to Sergio Agüero son Benjamín..
The duo has played together at three World Cups, four Copa Americas as well as winning gold at the 2008 Beijing Olympics.  During the interaction with Spanish Media, Sergio Aguero is looking forward to play alongside is good friend Lionel Messi next season.
In recent times, there has been a lot of uncertainty about Leo future with the club and he captain out of contract next month and yet to extend, but Aguero is optimistic the captain will stick around as well as extend his stay at the Camp Nou.
He was quoted saying "Of course I hope to play with Messi. What happens with Leo is a decision that he and the club will make. It is a pride to play with him. I've played with him in the national team. If he stays here, which I think he will, we will try to give our best for the club. I've spoken with Messi; I speak with him every day. But I can't tell you what we talk about. The last message was that he congratulated me, but we continued to talk about other things, which I can't share."