Tobacco is dangerous to our health and it doesn't how you smoke it. There is a misconception among the people that few that smoking them is safe but that is not the case whether it is acetone and tar to nicotine and carbon monoxide all are injurious to one's health. Smoking doesn't only affect your body but also affect your entire body.  Tobacco is extracted from around 65 known species of the tobacco plant and mostly grown in Northern India and Afghanistan comes from the species Nicotiana rustica. From many years the growing use of tobacco is a become a cause of great concern all around the world due to its serious effects on health.
As you are well aware that smoking can lead to a variety of ongoing complications in the body, as well as long-term effects on one's body systems. If reports are to believe more than 6 million people per year die from tobacco use across the world. There's no safe way to smoke and replacing your cigarette with a cigar, pipe, or hookah won't help you avoid the health risks.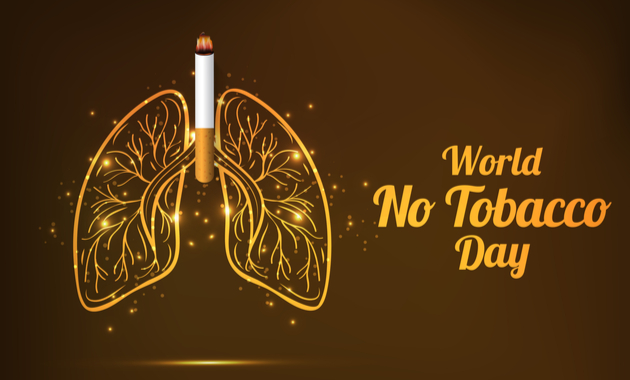 The World Health Organisation released a shocking report stating that during the coronavirus pandemic has led to millions of tobacco users want to quit smoking habits. With nearly 60% of tobacco users around the world wanting to quit smoking but only 30% of the global population having access to quality tobacco cessation services,
Today, we are celebrating World No Tobacco Day is celebrated and main objective is to create awareness of the harmful effect of using tobacco, the business practices of tobacco companies and what people who want to quit smoking and lead a healthier lifestyle and better quality of life. In 1987, the World Health Assembly passed Resolution WHA40.38, to celebrate 7 April 1988 to be 'a world no-smoking day' but the very next year it was changed to celebrate World No Tobacco Day, every year on 31 May.
This year WHO has WHO launched a global campaign under the theme to 'commit to quit'. Aiming to help 100 million people quit tobacco use through various initiatives and digital tools, who's campaign can help create healthier conditions that promote tobacco cessation.
The WHO Director-General, Dr Tedros Adhanom Ghebreyesus released a statement and was quoted saying "Smokers have up to a 50% higher risk of developing severe disease and death from Covid-19, so quitting is best thing smokers can do to lower their risk from this coronavirus, as well as the risk of developing cancers, heart disease and respiratory illnesses. We urge all countries to play their part by joining the WHO campaign and creating tobacco-free environments that give people the information, support and tools they need to quit, and quit for good."
Currently, only 23 countries provide comprehensive cessation services to help tobacco users to quit.