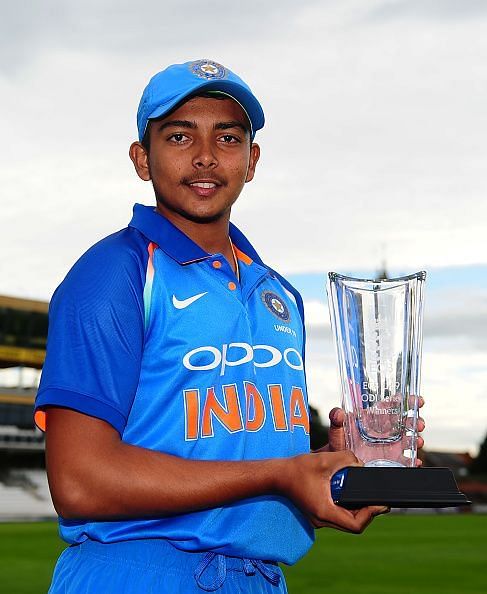 Ever since emerging in cricket world, Prithvi Shaw career graphs has been gone through a lot up and down, a lot of failures are going to come his way but this didn't deter him down, instead motivated him too. Shaw hails from Virar which in located in the western suburbs of Mumbai. He had though Childhood as he lost his mother at an early age in his life and this made him mentally strong and temperament wise. His father, Pankaj noticed his talent and started grooming him. His father wanted to become a cricketer while growing up but he couldn't fulfil his dream. But he saw the spark in his son, he did not leave any stone unturned despite all the financial difficulties. . Both the father and son have been through the hardships together.
Prithvi Shaw is a breath of fresh air, a rare hyped prodigy who has succeeded to become  the youngest Indian cricketer to score a century on Test debut. The promising Prithvi Shaw was dropped in Australia before bouncing back to form in domestic cricket, thanks to a working on his craft and he made technical changes in his game. The Mumbai batsman dominated the Vijay Hazare Trophy like no other in the history of the tournament, scoring 827 runs in eight matches. He carried the good form in the IPL Opening match scoring 72 off 38 balls in Delhi Capitals' first match of the season vs Chennai Super Kings.
Prithvi Shaw created another record by became only the second player in IPL after Delhi Capitals teammate Ajinkya Rahane to achieve the feat of hitting six consecutive fours in a single over. He achieved this feat by hitting six fours in the first over against Kolkata Knight Riders (KKR) which took place in Ahmedabad last night. Shaw achieved this record over the expense of opening bowler Shivam Mavi to the boundary and went on to score 82 off just 41 balls to help DC defeat KKR by seven wickets.
Shaw started the run chase by htting an aerial straight drive down the ground off Shivam Mavi. He followed it up by hitting a pitched-up delivery over the bowler's head for four in the next ball. He followed up with the next ball over midwicket before  pumping a drive through off-side off the third ball. He then went on to covers off a low full toss outside off. 
For the fifth ball, Shaw hit through backward point before finishing the over with a flourishing drive through extra-cover. Post the match, Shaw was quoted saying I wasn't thinking anything to be honest. I was just waiting for the loose balls. I knew where Shivam will bowl, we've played (in age-group) together for four-five years. The first four-five balls he bowled were half-volleys, so I was prepared for the short ball but he didn't bowl."
He was also quizzed about the tough times which he had go through recent times and was quoted saying "My dad has supported very well. After getting back from Australia, I wasn't happy with myself. My dad just asked me to play my natural game. All these words set a target on me and I worked hard. In cricket the graphs are going to go up and down, a lot of failures are going to come my way."
Delhi Capitals captain Rishabh Pant had words of appreciation for Shaw and was quoted saying "I was only telling him to play the normal game. In this kind of match, we can afford to think of run rate. Only thing we talk with youngsters is to just enjoy cricket, do your best."

DC's triumphant run and impelled them to the second spot in the IPL 2021 standings.