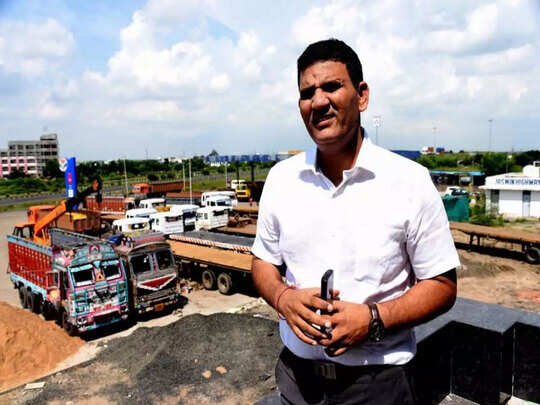 What is a success? As per oxford dictionary Success means the fact that you have achieved something that you want and have been trying to do or get; the fact of becoming rich or famous or of getting a high social position. Success' is a very powerful word. We all run behind it; most of us want to conquer it.  Success means different things to different individuals. Successful people never wait for applause or credit of their work as they eventually get it.
Today we would like to share an inspirational story of Nagpur's Pyare Khan. His journey can be best described as rags-to-riches story from selling oranges to running Rs 400 crore company and is called Ashmi Road Transport. His journey took him all around to Delhi and Mumbai. Post getting his driving licence, Khan decided to become a driver as a result took a job with in a courier company but had to quit it because of an accident which took place in Odisha when he was 18.  Sometime later stages in his life he purchased an auto-rickshaw and drove it for a while.
But life took a drastic step in when he was 24-year-old when Bhushan Bais, the branch manager of ING Vysya Bank in Nagpur wasn't convinced of approving a loan to him due to lack of collateral. But didn't let his morale down and tried to secure Rs 11 loan from Bais to purchase the truck which he even repaid to the bank within two years and which was two years before the stipulated period.
As of today, Ashmi Road Transport owns 125 trucks, which he owns, and another over 3,000 trucks on hire a day to move steel and power infrastructure all across the world. He has branch offices of his company across India and has total employee of about 500 people. Khan has been bestowed young transport entrepreneurs in 2018 which was organized by IIM-Ahmedabad and Mahindra Truck & Bus.
Coronavirus outbreak has affected 219 countries and territories around the world ever since the first case was recorded in China. As of early morning today, India on Wednesday has clocked a massive surge of 360,960 cases and 3,293 deaths according to MoHFW. The conditions have become so severe that there is a shortage of bed as well as grave oxygen crisis all across the nation. It is truly a testing time as the number of cases are on increase and during these testing times when the whole world is fighting against global pandemic.
Pyare Khan is a successful transporter from Nagpur has come forward and during these tough times,  to ensure 400 metric tonnes of medical liquid oxygen reaches government hospitals in and around Nagpur at a time when the whole country is reeling under a shortage of oxygen and a surge in Covid-19 infections. Pyare Khan is a self made billionaire who is providing  oxygen to hospitals all around Nagpur, saving the lives of several Covid-19 patients and has provided 32 tonnes of oxygen till date.
As per sources the administration has promised to pay for oxygen transportation, but Pyare Khan said no an said that it was his duty-bound 'zakat' during the holy month of Ramzan. Khan his grew leaps and bound from selling  oranges outside Nagpur railway station in 1995 to own a company worth Rs 400 crore.
Pyare Khan's enterprise comprises 116 oxygen concentrators, which he plans to donate to AIIMS, Government Medical College and Hospital (GMCH) and Indira Gandhi Government Medical College & Hospital (IGCMCH) in Nagpur. He also had to pay three times more to hire two cryogenic gas tankers from Bengaluru. As the demand for oxygen surged amid the rising death rate in Nagpur, Pyare Khan paid Rs 14 lakh more than the market price for the tankers.