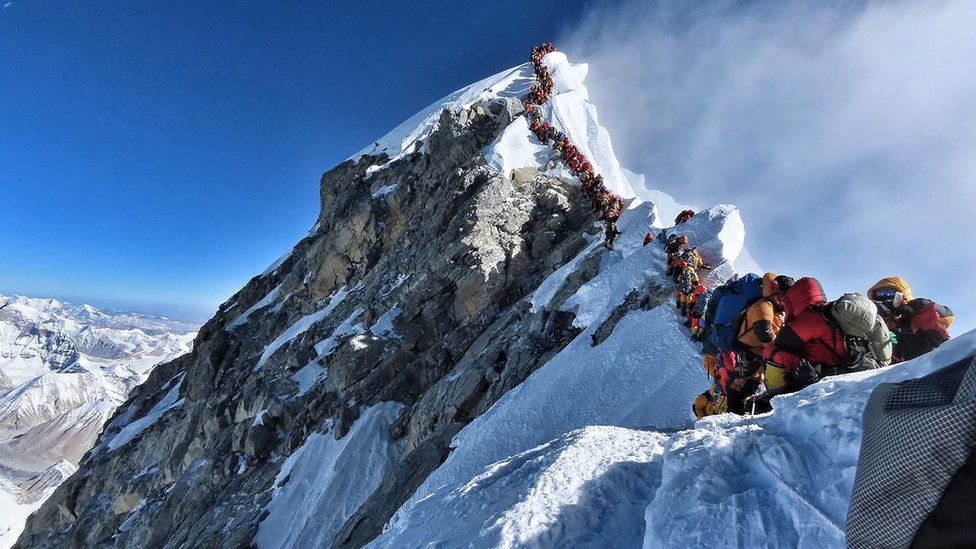 Mount Everest was first discovered way back in 1856, over the years more than 5000 climbers have reached the final summit. Mount Everest is the world's highest mountain at 8,848m (29,031ft) above sea level and is located between Nepal and Tibet's. The mountain was named after former Surveyor General of India, George Everest. Mount Everest in Tibet is known as Chomolungma, which means "Mother Goddess of the World."
The Nepali name is Sagarmatha, which has various meanings. The first time Mount Everest made headlines when Edmund Hillary (a mountaineer from New Zealand) and his Tibetan guide Tenzing Norgay climbed the Everest in in 1953 and held the record together. me altitude. Although they are 17 different routes have been pioneered to the summit of Everest, but everyone climbs it via one of two routes. From Nepal there's the Southeast Ridge, the line created by Tenzing Norgay and Edmund Hilary in 1953. From Tibet, there's the North Ridge, where George Mallory disappeared in 1924 long before a Chinese team finally completed the climb in 1960.
Over the years climbing Mount Everest has become a e a popular expedition for mountain climbers. But it is still dangerous and not everyone cup of tea. A lot of works goes into once you decided to climb the Everest such as to have experience mountaineering, as well as a certificate of good health, equipment, and also have a trained Nepalese guide. As the climbers climb higher altitude their oxygen intake is reduced, their bodies are increasingly at risk for a number of illnesses, such as pulmonary edema, cerebral edema, and blood embolisms. In order to avoid these outcomes most of the climbers ascending Everest use tanks of oxygen to reduce the effects of the extreme condition.
Priyanka Mangesh Mohite had set a record by becoming the third youngest Indian to climb Everest way back in 2013. From there was no turning back for the youngster who has scaled Lhotse, Elbrus and Kilimanjaro. Ever since childhood, Priyanka Mohite wanted to become mountaineers and went on to climb Mt Makalu, the fifth highest mountain in the world at 8, 485 metres, way back in 2012. Very same year, she went to scale Bandarpunch (6, 316 metres high) in the Garhwal Himalaya, while undertaking the advance mountaineering course at the Nehru Institute of Mountaineering in Uttarakhand.
Priyanka Mohite hails from Satara in Maharashtra. She was inspired by reading about the exploits of Chhatrapati Shivaji in school and was quoted saying "I really love history, and one of the first forts I went to was the Ajinkyatara fort (in Satara). It was really inspiring to learn that I was treading the same path as Shivaji Maharaj. It also gave a lot of context to what I was studying at school. But as the treks grew harder, my uncle asked us to join a professional trekking group, so I started going to the mountains with Kailash Badal from Sahyadri Trekking."
The 26-year-old mountaineer from Maharashtra's Satara, has an added another feather under her camp by becoming the first Indian woman to summit Mt Annapurna I, the 10th highest mountain in the world.
This was the first successful mountaineering expedition this year and consisted of 68 climbers also had 6 women who reached the top of 8091 metre Annapurna I, Purnima Shrestha, Dawa Yangjung, Dabhuti Sherpa, Pasang Lhamu Sherpa, Sharmila Tamang and Maya Sherpa became the first Nepali women to climb the mount. Uruguayan-Mexicana Vanessa Estol was one of the first climbers to reach the summit. She's currently on her way down.
Annapurna I is the world's 10th highest peak and the climbers has reached 8,000 metres. The peak became famous in 1950 by Maurice Herzog, who with Louis Lachenal reached the top on June 3. It is one of the most treacherous mountains to climb. This year summit was launched Seven Summit Treks, the chairman Mingma Sherpa was quoted saying "The first climb was reported at 1:30am and it continued until 4:30pm."
There were no mountaineering expeditions in Nepal last year because of the Covid-19 pandemic.