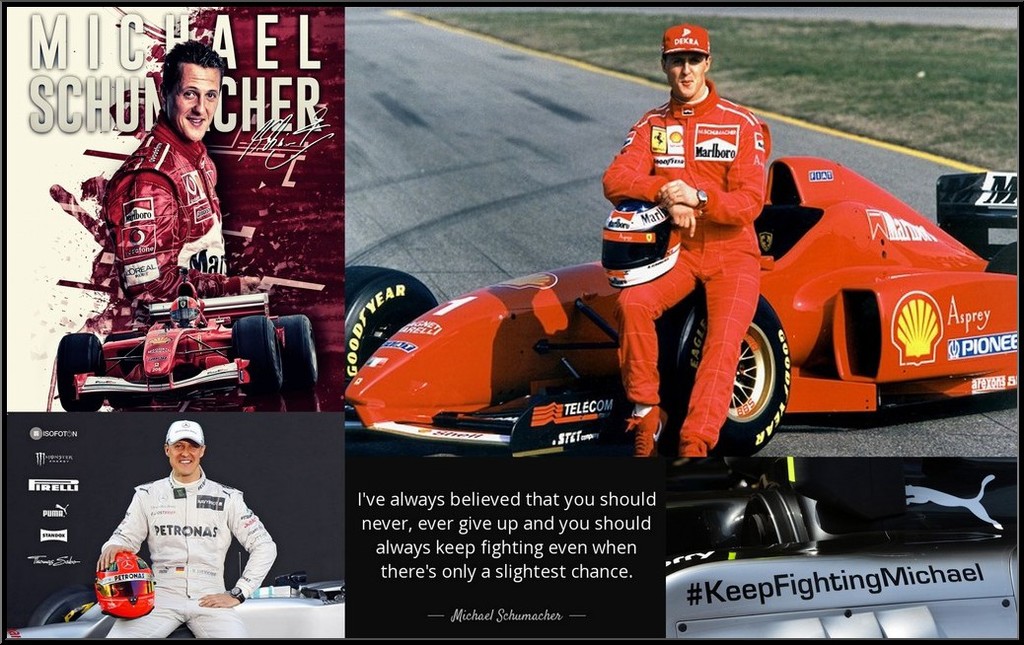 Michael Schumacher is one the greatest Formula 1 drivers the sport has ever seen and even the greatest of all time. Schumacher is known for single-handedly change the sport and creating new milestones such as Seven World Championships, 91 Grand Prix victories, 155 podiums. He also holds 68 Pole Positions (second all-time) and 1566 career points.
Schumacher took the sport to another level and becoming the first German champion at 25-year-old and went to set the stage on fire. He retired from the sports at the age of 40 as he didn't have special pace was no longer there and said his goodbye to the sport.
The world came crashing down went the news went viral of Schumacher has met with an asking accident in the French Alp's and serious injured himself by hitting on a rock. He was quickly rushed to the hospital and was put into a medically induced for Six months. It has been an uphill battle to survive but then he is no ordinary man. He is true fighter who is determined, relentless, gutsy and a winner. The fans all across the world are praying for his speedy recovery and Keep fighting Michael.
Mick Schumacher won the Formula Two title in Bahrain yesterday, the last race before moving up to Formula One with the U.S.-owned Haas team.  Mick finished with off with 215 points, 14 clears of Briton Ilott, with Japan's Yuki Tsunoda. Post win Schumacher was quoted saying "To be champion, I owe it all to my team! "I'm a bit overwhelmed at the minute, it's going to take a few days – I'm just so happy and grateful! To Callum, he gave me a run for his money – it's been tough but so enjoyable at the same time. So big thank you to him"
Mick Schumacher is all set to follow in his father's footsteps and is all set to joining the American team Haas for the 2021 season. He started his professional journey way back in 2008, when he began karting and as of now is competing in the FIA Formula 2 Championship with Prema Powerteam. He is very excited and thilled to join Haas team in 2021 and was quoted saying 'I'm really really looking forward to next year's challenge and next year's work. It's been a dream that I've always dreamed about and now it's finally coming true, so I'm really happy and emotionally exploding really.'
This is the recent award in his cabinet, following on from his European F3 title in 2018.