Coronavirus outbreak has affected 209 countries and territories around the world ever since the first case was recorded in China. It is truly a testing time as the number of cases are on increase and during these testing times when the whole world is fighting against global pandemic there a few unsung heroes such as the doctors, nurses, and other medical personnel who are on the working around the clock to provide their service in the front line of the war against COVID-19. These unsung heroes are gearing up for battle and running into the fire. They are putting their lives at risk and worked tirelessly to treat an outbreak of an illness.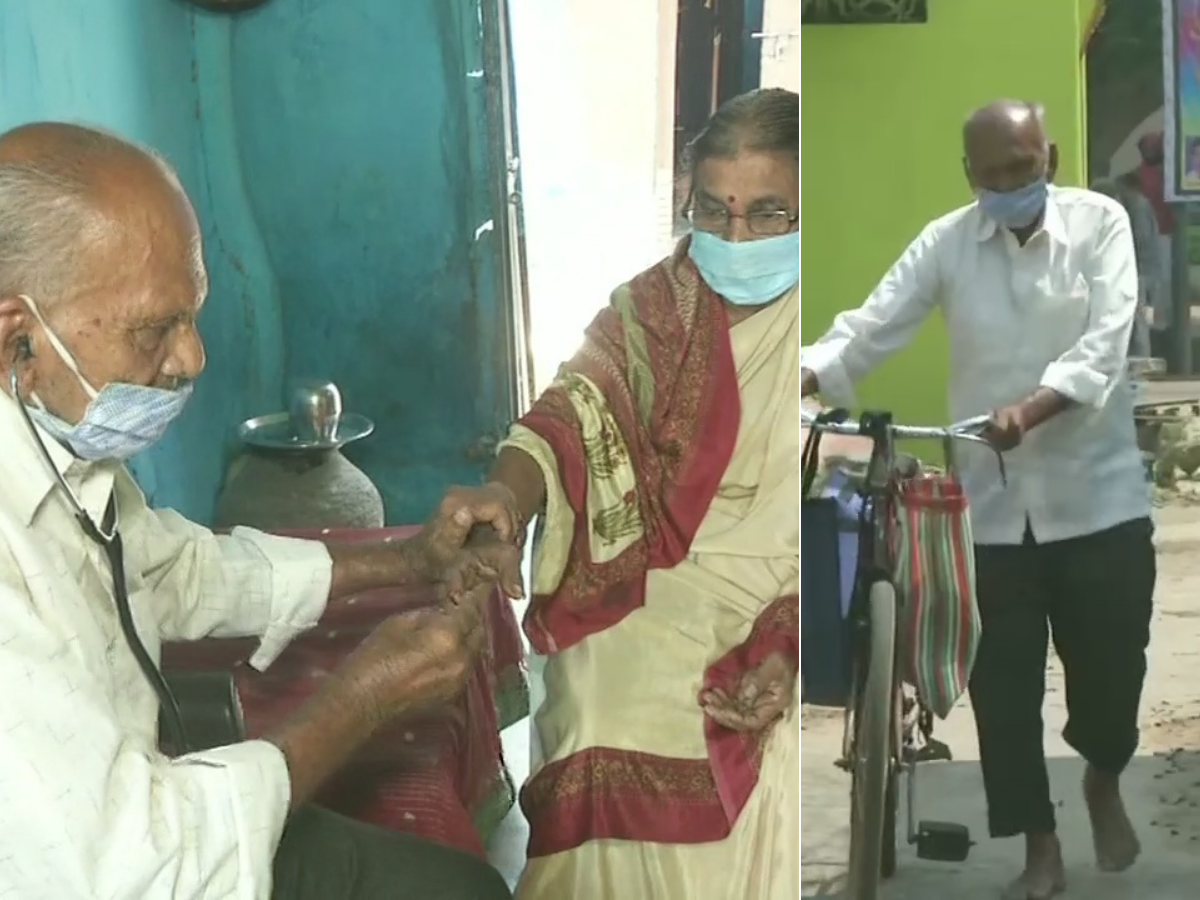 During these tough times, an 87-year old doctor from Chandrapur constant defying the pandemic to reach to the ailing patients on a bicycle and offer them treatment. During these tough times, an 87-year old doctor from Chandrapur continued braving the pandemic to reach his patients on a bicycle and provide them treatment. Dr Ramchomehandra Danekar is a homoeopathic doctor who daily covers a distance of 10-15 kilometres on his bicycle daily to provide door-to-door medical treatment to the needy in the past to 6 decades.
While interacting with the media, was quoting saying, "For the last 60 years, I've been visiting villagers almost daily. Due to fear of COVID-19, doctors are scared of treating patients but I have no such fear. Nowadays, young doctors are only after money, they do not want to serve the poor."
His sole aim in life is used to visit as many as villages in a day and returns to his house at night. While interacting with the media, the villagers had words of appreciation to the Dr Danekar was always available for them round the day and had continued working for them even during the pandemic phase. Also added "He is like a God for us, he is the only doctor who reaches us at any time on a single call. He has continued serving us even during the pandemic phase when others would refuse."
Salute to the spirit of Dr. Ramchandra Dandekar prove that there is no more noble work than the service of a less privileged individuals. This is also one of the reasons that at this stage of his life, he is maintaining his record of being a doctor with goodness and graciousness.
In India, the coronavirus tally has raised to 79,09,960 on Monday with 45,149 new Covid-19 cases. This is the lowest daily increase which has been reported in India in the past three months. As per official statement released by the health ministry, 480 coronavirus patients have succumbed to the virus in the past 24 hours taking the death toll to 1,19,014. on the other hand, total of 71,37,228 people has recovered from the pandemic so far pushing the national recovery rate to over 90 per cent.