The trailer of Anurag Basu's forthcoming film 'Ludo, starring Pankaj Tripathi, Abhishek Bachchan, Rajkummar Rao, Sanya Malhotra, Aditya Roy Kapur, Fatima Sana Shaikh, Rohit Saraf and Asha Negi was released today. The movie is roller coaster ride of emotions for the audience and at the same time entertaining too. Post saying the trailer, we get to see individual stories of Abhishek, Pankaj Tripathi, Rajkummar, Aditya and Rohit character in the movie in a very captivating way. Also, we will for the first time get to see pairing of Sanya Malhotra who is paired opposite Aditya while on the other hand Fatima Sana Shaikh has a storyline with Rajkummar Rao. 
In the trailer, we also get to see how the lives of four people who cross paths with each other due to some twist of fate. In the movie Rajkumar is essaying the orle of a con man, Whole Abhishek Bachchan is seen bonding with a little girl child which he has kidnapped for the first time. Pankaj Tripathi is playing an assassin who is brandishing guns while mouthing quirky dialogues and Aditya Roy Kapur's character seems like a regular modern man with his own set of motivations. Fatima Sana Shaikh is playing a crook and want to break out her husband from the prison and is caught in a web of lies and deceit. there is not a lot going on for Sanya Malhotra's character.
Netlfix summarised the movie and reads: "Ludo is about the butterfly effect and how, despite all the chaos and crowd of the world, all our lives are inextricably connected. Starring an amazing ensemble cast of Abhishek Bachchan, Aditya Roy Kapur, Rajkummar Rao, Pankaj Tripathi, Rohit Saraf, Fatima Sana Sheikh, Sanya Malhotra, Pearle Maaney, Inayat Verma, Asha Negi and Shalini Vats, Ludo is four different stories tied together by unavoidable circumstances."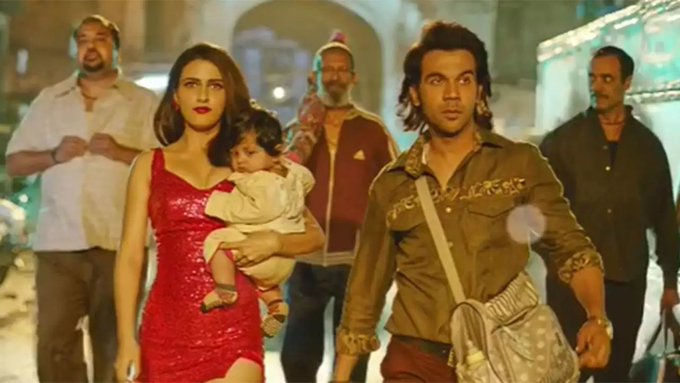 While interacting with the media, the ace director Anurag Basu was quoted saying "Ludo has a very interesting concept and it came to my mind 3-4 years back. It's a crazy fun ride. It's a ride just like ludo. There are 4 stories. 4 gotiyan hain apko pata nahi ki kon kisko kab kaategi. All are so interconnected. We had a great time. It has a dark humour, romance and crime. All the tars have done a brilliant job, be it Rajkummar Rao, Abhishek or Aditya. Aditya Roy Kapoor is a big surprise; he surprised the whole unit actually. Abhishek Bachchan is back with a bang."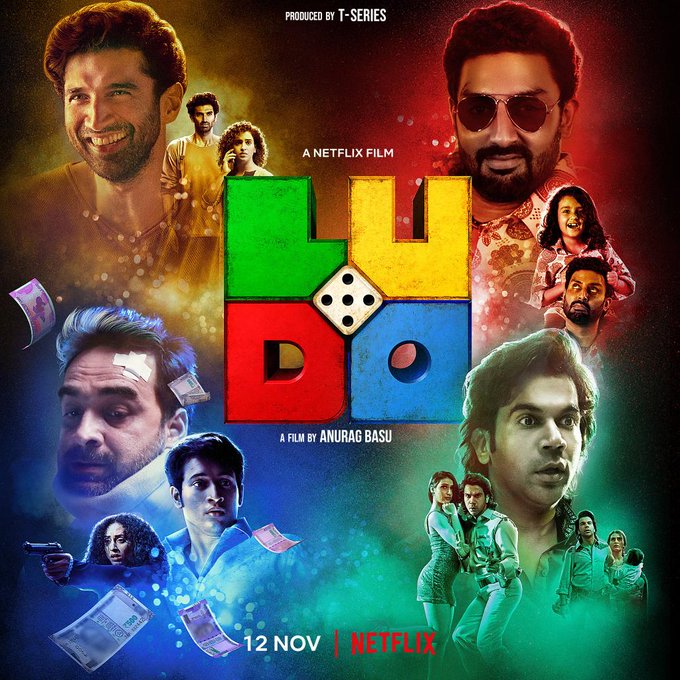 The movie is being produced by T-Series and Anurag Basu Productions, Ludo is all to premiere on Netflix on 11th November.