Amul is pride of India and was started during the White Revolution in our country. It has become the world's largest producer of milk and milk products as well as the largest food brand in India. The company was founded in 1946 as a as a part of a cooperative movement against Polson Dairy in Anand, Gujarat, which bought milk from local farmers of Kaira District at very low rates and sold it to the then Bombay government. This led to farmers decided to go and meet Sardar Patel and share their concern with him, who was had been constantly campaigning for having farmers' cooperatives since 1942. This led to commencement of the Kaira District Co-operative Milk Producers' Union Limited in Anand.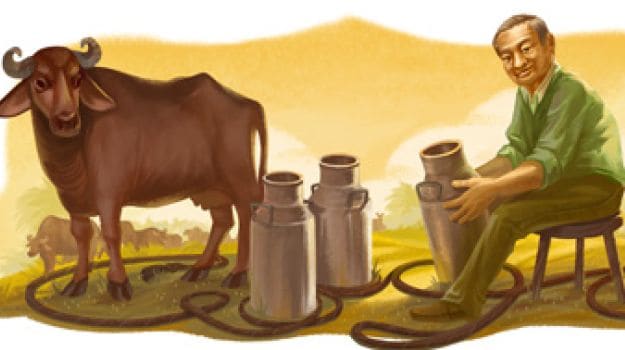 Dr Verghese Kurian association with Amul commenced in 1949 when he arrived in Anand to manage a diary as a government employee. He came in blessing in disguise for the farmers and started the white revolution in our country. Under the guidance of Dr Varghese Kurian started a new diary with the milk processing plant and commenced operation in October 1955, the year which was a breakthrough in dairy technology —buffalo milk was processed to make products for the first time in the world.
The word 'Amul' is derived from Sanskrit word 'Amulya' which means Precious or priceless. Amul is also an acronym for Anand Milk Union Limited. Dr Kurien was a visionary and started Gujarat Cooperative Milk Marketing Federation in 1972, whose aim was market milk and all milk products produced by six district cooperative unions in Gujarat.
Amul created history by becoming the first Indian dairy brand to make a place in the global top 20 list released by Rabobank. The official list was released the Dutch multinational banking company has placed Amul, also known as the Gujarat Cooperative Milk Marketing Federation (GCMMF), in the 16th position with an annual turnover of $5.5 billion (₹38,500 crores). Amul took to social media and wrote "GCMMF (Amul) enters the Rabobank's Global Top 20 Dairy Companies list for the first time at No.16. This is a matter of pride for 36 lac milk producers of Gujarat."
RS Sodhi, Managing Director, Gujarat Cooperative Milk Marketing Federation Limited (Amul) took to social media to thank the Gujarat government. "For all this tremendous growth credit also goes to Govt of Gujarat @CMOGuj @vijayrupanibjp for supporting 36 lacs farmers during difficult times by giving timely export incentives and Infrastructure funding @Amul_Coop." He also He also thanked and a special message for the employees and said that organisation was able to achieved due to the efforts of 3.6 million milk producers especially women.
During these tough times, Amul has focused all their energy on producing immunity-boosting products and also launched Haldi Ice Cream. The organisation is all set to lauch Immuno Chakra Ice Cream, the Health trinity of Haldi-Ginger-Tulsi in tri-colour Ice Cream stick of 60 ml and Star Anise Doodh in the 200 ml can. During the nationwide lockdown due to coronavirus outbreak, Amul has gone on to earn in Rs 8,000 crore back into rural economy.