Jaipur has witnessed heavy rainfall which caused a lot havoc and unsettling normal life, causing water logging at numerous places and affecting train services and road traffic movement in the city. The weather department predicting more heavy rainfall in weeks to come and which led to the staff at the historic Albert Hall museum was involved in a rescue operation.

As per official reports the staff went on high alert when water started entering the he museum. Numerous antiques, files, maps and old documents were damaged in the rains and official statement was released saying four-feet of water had gathered inside the museum and in the head office of the state's archaeological department.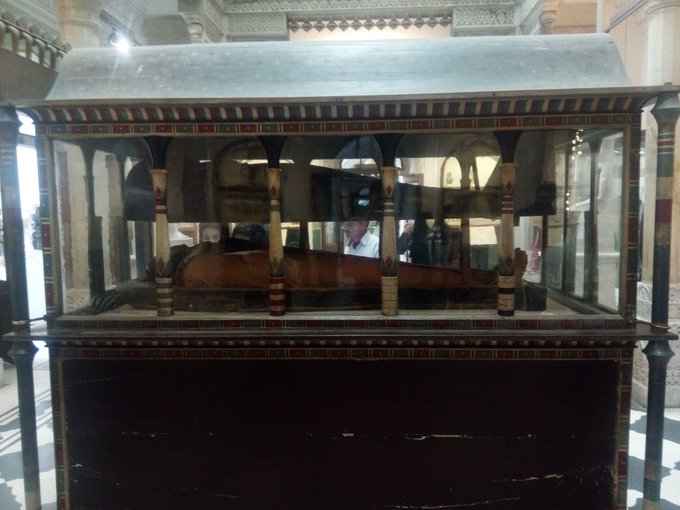 The housekeeping officials and guards were worried of water not reach museum's basement where a 2,400-year-old Egyptian mummy encased in a glass chamber. for the first time in over 130 year. A 2,300-year-old Egyptian mummy kept in Jaipur's Albert Hall Museum was taken out of its box to protect from the heavy rains. The museum superintendent, Rakesh Cholak was quoted saying "The ancient mummy is our most delicate antique and since a display in 2016, it has been extremely popular with local and international visitors. With timely intervention, we saved it from the slush and water that badly affected almost 17,000 artefacts in our store and display areas."
The mummy was gifted by the Museum of Cairo for an exhibition in Jaipur which was organised by then king of Jaipur Sawai Ishwar Singh in 1887. As per official information the mummy is Tutu, a female member of a priest's family, which can date back to Egypt's Ptolemaic era (322 BC to 30 BC). It was discovered in the Akhmin area of the ancient city of Panopolis in Egypt more than 300 years ago. Three experts from Egyptian Ministry of Culture visited India in 2011 to conduct to check on the mummy condition and released a statement informing that the mummy's skeleton was in very good condition after conducting sterilisation all the items to wipe out microbes.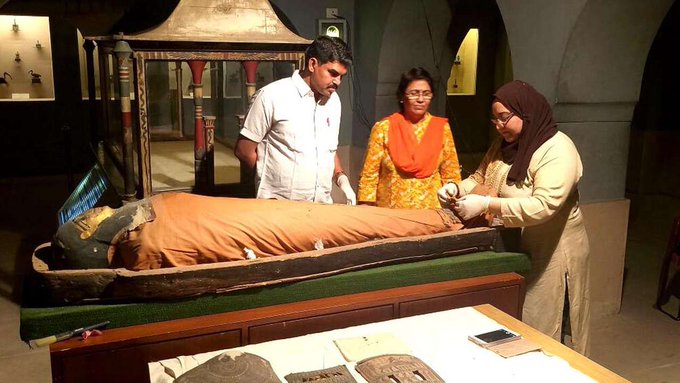 Rakash Chandra Sharma, Director, Department of Archaeology and Museums, Government of Rajasthan informed that in 2017 the mummy was shifted to the basement of the Albert Hall in Jaipur and was quoted saying All files were drenched due to water rising up to five feet in the office. Office laptops, printers, computers and stationery have become unusable and non-functional. Hundreds of soaked files are being dried and tourist entry is closed for seven days. If conditions do not improve, it can be extended further."