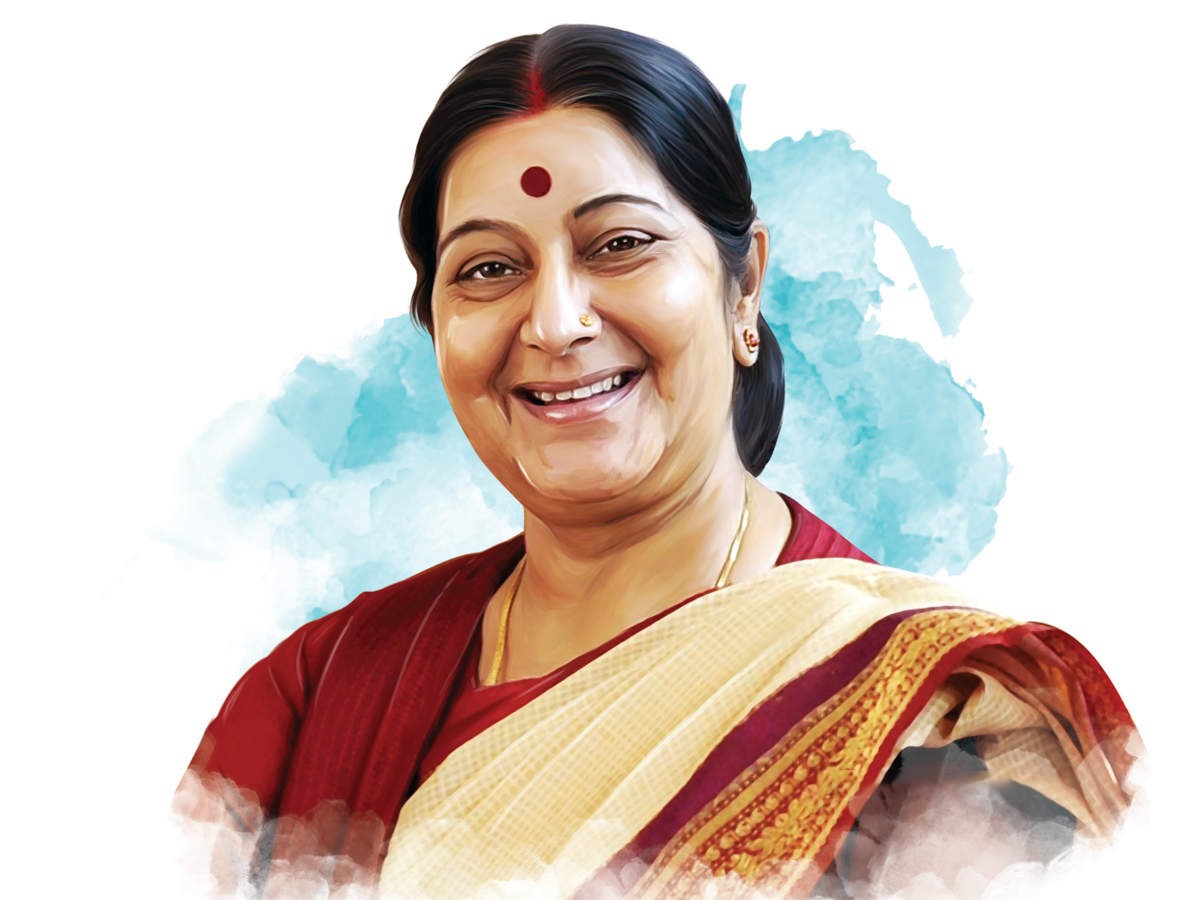 A year has gone by since former external affairs minister, Sushma Swaraj at AIIMS at the age of 67. The whole nations were heartbroken post the news broke of her demise on 6th August 2019.  Sushma Swaraj hailed from Ambala, Haryana and was born on 14th February 1952. Her father Hardev Sharma was prominent member and supporter in the Rashtriya Swayamsevak Sangh (RSS). She did her graduation from Haryana. Then went on to complete her Law degree at Panjab University in Chandigarh, and in 1973 registered as an advocate.
During her college days was very active and also served as the leader of pro-Hindu organization associated with the RSS. She strongly opposed to the government of then-prime minister Indira Gandhi. In 1975 she got married to lawyer and politician Swaraj Kaushal, who served as a governor of Mizoram state from one term (1990–93).
Swaraj became the member of BJP in 1977 and ran for office for the first time and was elected to a seat in the legislative assembly of Haryana state. during her two terms, held two ministries minister of Labour and Employment (1977–79) and of Education, Food, and Civil Supplies (1987–90) in the state government. In 1984 she joined the BJP (which had been established by members from Janata in 1980) and was appointed secretary of the party. She soon rose up the party ranks to become its general secretary.
Swaraj didn't have successful stint and losing bids to win a seat in the Lok Sabha, losing each time to a candidate from the Indian National Congress (Congress Party).  But in 1990 she was elected to the Rajya Sabha (upper house of parliament). She came stronger to win a Lok Sabha election in six years and was made cabinet minister (Information and Broadcasting) in the 13-day BJP-led government of Atal Bihari Vajpayee (May–June 1996).
She was re-elected in 1998 held the same ministry for the time frame of March to October before resigning for the post to become the chief minister of Delhi in doing so also became the first woman to hold that office. She held the position for less than two months (from mid-October to early December). Post the BJP lost the 1998 Delhi assembly elections, Swaraj decided to return to national-level politics.
She was known for reaching out to people and come to their aid during her stint as foreign minister of India. She was only the second woman to hold the portfolio post Indira Gandhi, who had held the post of the external affairs ministry under her tenure as the prime minister. Swaraj has a kidney transplant in 2016 and as a result opted out of contesting Lok Sabha election in 2019.
She left behind a legacy which will be difficult to replicate and still remembers an easily-accessible minister who helped the Indian citizens in distress with her revolutionary social media outreach. She was known for bringing about path breaking measures such as the passport infrastructure expansion and enhanced engagement with the East were the highlights of her tenure as the external affairs minister.
She was bestowed with the Outstanding Parliamentarian Award. During her tenure as the external affairs minister, handled numerous strategically-sensitive issues, such as including Indo-Pak and Sino-India relations. She was a tough fighter and one was much loved and respected across the part lines.