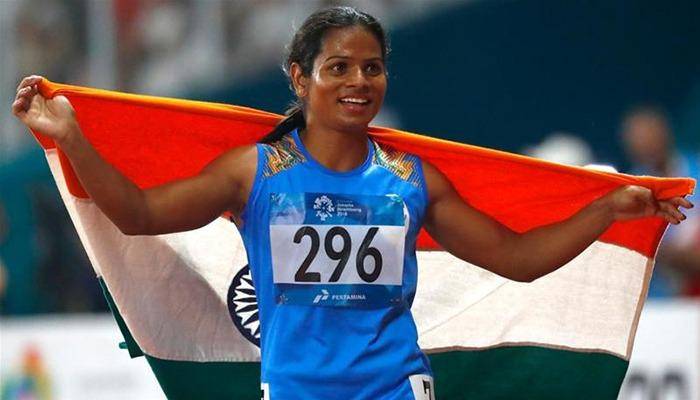 Running against all odds, Indian sprinter Dutee Chand has come a long way and living proof that all dreams can be made possible when you get encouragement from your family. She hailed from a very humble background into weaving business. She along with her other siblings make her parents proud. She was motivated by her elder sister, Saraswati Chand, who was an athlete herself. Chand went on to study law from the KIIT University.
Dutee Chand is termed as lady Milkha Singh, as she set a record by qualifying for 100 m in the Olympics. She is the first woman after the legendary sports star, PT Usha to achieve this rare feat. Dutee first came into the limelight when clocked 11.8 seconds in the 100 metres category and became took of the town by setting the national record. Dutee is a true fighter who has undying spirit of never giving up. she had successful comeback and went to win a bronze medal in 2016 Asian Indoor Athletics Championships which took place in Doha, Qatar. She won it in the 60 m category clocking 7.28 seconds. She timed a remarkable 11.30 seconds in the 100 metres category crossing the 11.32 seconds qualifying for the Rio Olympics.
Last year Chand participating in the 2019 Summer Universiade, Napoli and went to win the medal and became the first Indian woman sprinter to win gold at the Universiade. Dutee is challenging herself to push beyond limit and went on to break her own national record by clocking 11.22 seconds in the 100 metres category at the 59th National Open Athletics Championships. Dutee Chand shocked the world, by posting on social media saying that she will sell her luxury car to cover the cost of training for the Olympics next year. She wrote, "I want to sell my BMW car. If anyone wants to buy, contact me on messenger."
While interacting with the media was quoted saying "It was a difficult decision for me to put up that post… Had there been an Olympics, I would have been all set, but, as the Games have been postponed by a year, I am unable to support myself."
Also informed the decision to delete post came post having an interaction with her manager post there were some offensive comments. Ever since the coronavirus outbreak, she has no sponsor beside apparel deal with Puma. Also, she is the only bread winner of the family and is in dire need of funds for training and diet. she further added "Due to the ongoing pandemic all completions have been cancelled. Sponsorships for Olympics are also no longer there. I have spent all my money and haven't earned anything in the last few months. There will be no new sponsors either during this time so selling my car is the only option left."  
We hope and pray Sports minister Kiren Rijiju to intervene and support the athlete during there tough times.
A while back Supreme Court of India's gave a historical judgement of decision of decriminalising gay sex, Dutee came out of the closest and became the first sportsperson in India to openly acknowledge being gay.