Hima Das hails from a humble beginning and was born in Nagaon district, Assam and had very little information about athletics. Ever since childhood she was fond of Football and also represented few local clubs. The focus shifted when in 2016 that her PE coach suggested her to try out an individual event. Hima Das is one of those real-life stories which was easy but his zeal and hard work made it all the difference.
Hima Das took the nation by storm when she won first Gold for India in any global track event by winning the 400-metre final at the World U20 Championships in Tampere, Finland. At the IAAF U-20 World Championships, she clocked 51.46 seconds. She a rising star from Assam. She makes headlines with every race and the teenager has got faster with every race and is the role model to our country youngsters. She has had a remarkable story to tell and being loving called 'The Dhing Express'.
Coronavirus outbreak has having an impact on sports across the globe. As around the world mass gathering is a risk and as a result most of the world sport has shut down. Tokyo Olympics delayed until 2021 Decision was taken post detailed discussion between Japan's prime minister, Shinzo Abe, and the International Olympic Committee president, Thomas Bach, led to confirmation of a decision made inevitable by the coronavirus pandemic.
During these tough times, Hima Das isn't really stressed over the qualifying for the Olympics, she has taken by cycling and started playing the game of cricket in her "medium-intensity" training regime whereas taking care to avoid the scorching summer heat. Ever since coronavirus outbreak, all major competitions have been cancelled till further notice.
During this cooling off time, Hima was quoted saying "There are no immediate competitions and so we are neither doing low level training nor intense. We are just doing medium intensity training. Let us see when we pick up our training. It is very hot here and so we do only morning training. In the evening we have spare time and I do cardio (in the velodrome) and even do bowling with cricket balls. I try to enjoy life as much as I can. My motto is be positive and be happy."
Also isn't quite worried about Olympics qualification as it creates a lot of stress and there is a year to ago. Also said "Let us first pray that this pandemic ends quickly. Then athletics season begins (on December 1) and there is a lot of time next year to qualify for the Olympics." A lot of speculation is going on that due to a lower back injury, he may not run 400m and switch to 200m. Dhing Express and was quoted saying I am recovering (from the injury). I will do whatever is decided by my coach and the AFI. They will decide (which one I will run). It is in the process but I am fit to undergo outdoor training and we have been doing that for the last 30 to 40 days."
The rising star has created another record by becoming one of the youngest nominees for Khel Ratna this year. The 20-year-old, had a remarkable 2018 year, went on to win -20 world title with 400m silver, 4X400 mixed relay gold and women's 4X400m gold at the Jakarta Asian Games. She suffered the injury during the Asian Games and she pulled out in the middle into the individual 400m race in the Asian Championships in Doha in April last year.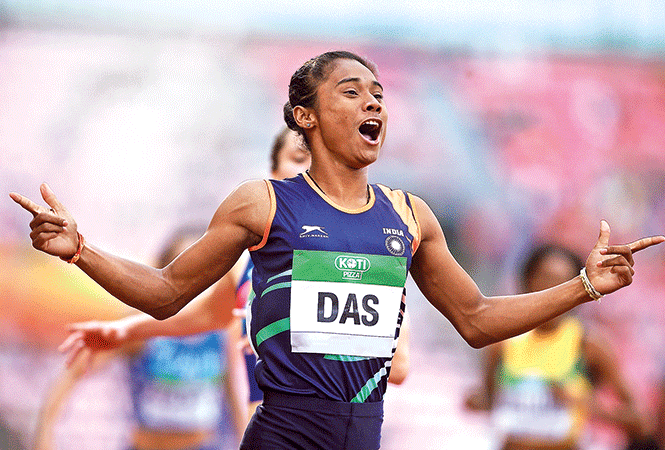 Post recovering from the injury, went on to win six low-grade races in Poland and Czech Republic which took place in July and August last year. Though she ran only on 400 m race last year and us out of those five wins came in 200m. As per latest update, the he Athletics Federation of India released the statement that 12th September to commence the domestic season. But these seems unlikely due to rising COVID cases in the nation. Hima Das had this to say about starting the domestic season in September and said "We are doing training keeping in mind the tentative schedule. But, on the other hand, COVID-19 cases are increasing, even in Patiala, and a lot of athletes will have to come (for a national meet). Ultimately, the AFI will take a decision on the issue, taking into account the circumstances."