Sourav Ganguly is one of the prolific cricketers to don the national jersey and is lovingly called 'Dada' by his fans as well as cricket fraternity and turns 48-year-old today. He was known for his authoritative, influential, and daring captain who changed the way the cricketing world perceived India. He is lovingly known as the 'Prince of Calcutta'. They might be few controversies which took place during his international career but no one takes away his achievements.
 It was under Dada leadership that Indian Cricket Team started winning series overseas regularly. He played by his own rule and for him, challengers were always meant to be defeated. He was given the title of God of off-side', his strong cuts and cover drives brought cheers to the fans as well as the team. His batting was mixture aggression with grace and went on to become one of the most destructive batsmen in limited-overs cricket.
It was under his reign that Sourav Ganguly started nurturing and giving opportunities to young talents. This led to the birth of future legends such as Gautam Gambhir, Virender Sehwag, Harbhajan Singh, Yuvraj Singh, Zaheer Khan and few others. These four players thrived under Ganguly's captaincy. Ganguly was India's most successful Test captain with 21 wins in 49 matches and went on to score scored 6,888 runs in 109 Tests at an average of 41.74 with 15 centuries. he finished his one-day career with 11,363 runs in 311 matches, one of only seven batsmen to reach the 10,000-run mark in limited-overs cricket.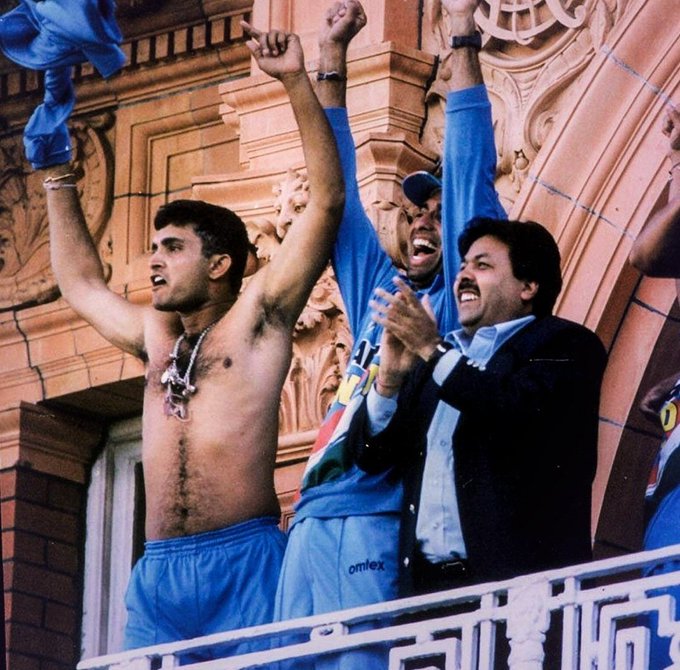 One of the most memorable wins came under the leadership of Saurav Ganguly when Team India was of the 2002 Natwest Series. His bare-chested celebrations are etched in the minds of millions of cricketing fans across the Globe. another moment came when the Indian team reached the final of World Cup 2003 and the whole nation was hopeful of the team lifting the cup for the second time post 1983. But the result wasn't in their favour as Australian team was a tough team to defeat and denied Dada take the trophy home.
Rahul Dravid praised Sourav Ganguly and termed as if there is on the offside, first there is God, then Sourav Ganguly. The two left and right combination partnership of Ganguly and Dravid had registered a mammoth 318-run partnership for the 2nd wicket against SL in the 1999 World Cup at Taunton.
Post Retiring from the international level, Ganguly has been still playing a very active role in the game. He has served as the President of the Cricket Association of Bengal. Dada is currently President of the Board of Control for Cricket in India and former captain of Indian cricket team.

#HappyBirthdaySouravGanguly:  Cricket Fraternity Wishes Legendary Former India Captain and current BCCI president turned 48, and the cricket world – Check out some of the reactions below :-