Liverpool's 30-year wait to win Premier league title came to an end finally as in poetic way when Chelsea beat Manchester City 2-1. Liverpool created record by becoming the first team to win the title in 30 years, achieved with seven matches remaining. There is no doubt that the team has been arguably the most impressive of their 19 after a season of supremacy.
Under the guidance of Juergen Klopp, the team has won the title by with seven games to spare, as Manchester United (2000-01) and Manchester City (2017-18) who won their respective titles with five games left. Chelsea defeated a 10-man City side and this was also their first win since 1990. The Chelsea players such as Christian Pulisic and Willian to beat the second-placed City side.
Last time Liverpool champion was in 1990, when Kenny Dalglish's side won the old Football League championship.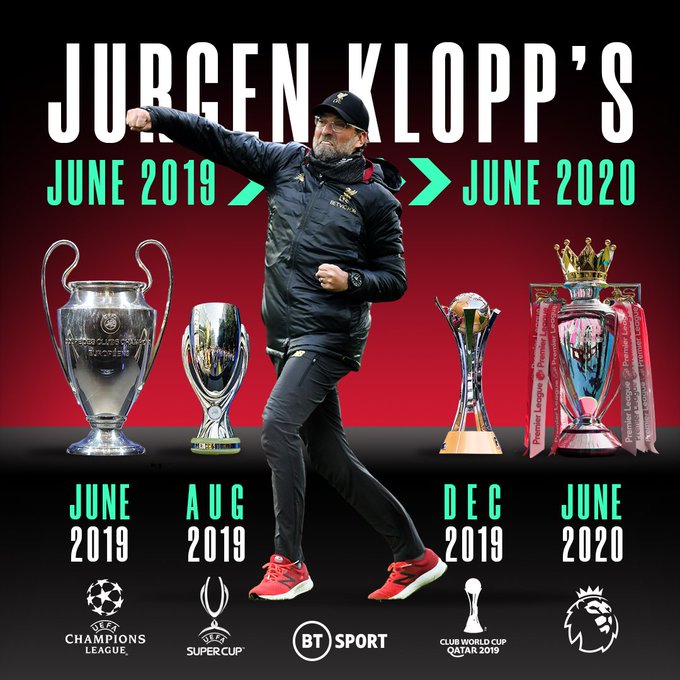 Klopp while interacting with media was quoted saying "I have no words. It's unbelievable. It's much more than I ever thought, to become champions with this outstanding club is unbelievable. It's an incredible achievement for my players." Klopp also thanked fans and dedicate the win to them as well as was quoted saying "Tonight it is for you out there. "It's incredible. I hope you stay at home, or go in front of your house if you want, but not more. We do it together in this moment and it is a joy to do it for you."
In the wake of coronavirus outbreak, Klopp had earlier plead for the fans to stay at home and follow all the social distancing norms. But the post, the announcement of The Red been declared the champion and ignored Klopp's plea to respect social distancing norms as they partied till the wee hours of night in the streets around Anfield.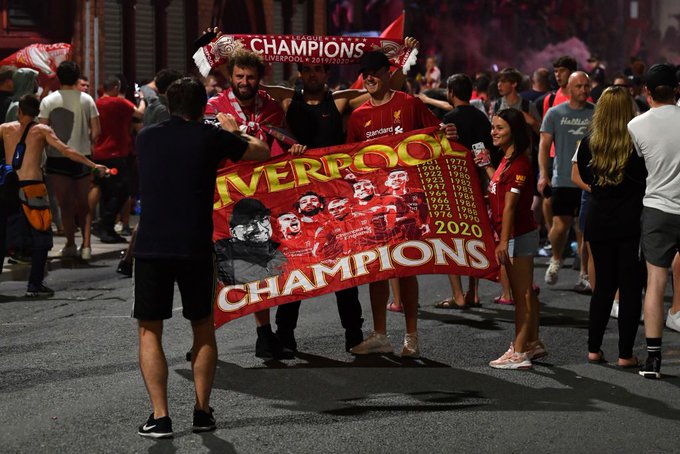 The manager also promised when everything goes back to normal, a celebratory parade for our supports and we be united and enjoy in a grand manner.
The major reason for the meteoric rise of the Reds goes Klopp who took over the reins in 2015, at the time when the club was struggling to break into the top four. The signing of Virgil van Dijk's from Southampton in 2018 has proved one of the crucial steps in Liverpool's renaissance under Klopp.
The Dutch defender didn't let his manager down and raises their game even higher. Virgil was quoted saying "What a season. We've been incredible. To be part of this group of players and part of this journey is incredible and I am very proud to be able to call myself a Premier League winner. In the league this year we have taken it to another level. We have been so consistent and played so well."
This season's feat means Liverpool now have 19 titles to their credit, one behind Manchester United, who stand at 20. The Red stands with 86 points after playing 31 matches, with 28 wins, two draws and one defeat.