Coronavirus has brought the nation to a standstill and daily routines have taken drastic steps to try to curb the coronavirus pandemic. In these tough times when most of us during this time are sitting in lap of comfort and having three meals a day but on the other end the most affected people during this pandemic is the migrants who are walking on foot to reach their respect homes. In recent times we saw heart breaking glimpse of thousands of migrants leaving their cities and trying to return to their villages. These hard-working labourers and daily wager are the backbone of city economies but they were scared that they would go hungry in this troubled time.
In recent times a story went viral of 15-year-old school dropout Jyoti Kumari who took her ailing father on her bicycle and travelled 1,200 kms in the span of seven days and has become a global celebrity. She started her journey from New Delhi to Darbhanga.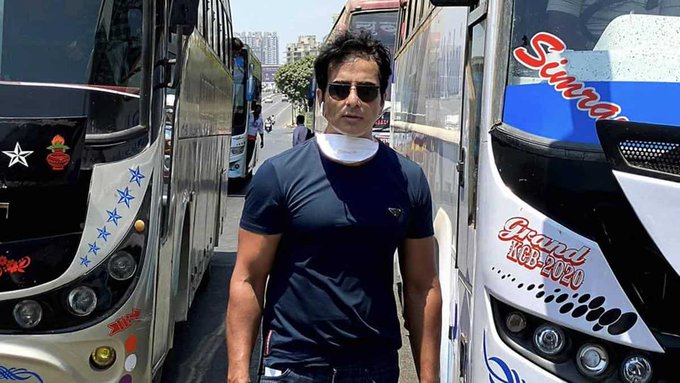 During these times many have sympathies with the conditions of the migrants but Sonu Sood has worked towards this cause and has been arranging meals and transport for thousands in distress during the coronavirus outbreak. The Happy New Year actor is being hailed as the real-life hero for his contribution towards helping people in need and coming to their aid too. He also stated an initiative "Ghar Bhejo" movement in May and helped sending thousands from Mumbai to their hometown in numerous states such as Bihar, Maharashtra, Karnataka and Uttar Pradesh. He has become a ray of hope and at the same time become an angel for migrant laborers.
The actor is keeping a close tab on messages on social media platforms and personally replying which is heart-warming. We are used to see our favourite actors delivering emotional and patronizing dialogues in the movies but here is one actor who is not only promises to send migrants back home but goes ahead in doing it.
He has been nicknames by fans as Twitter Hero', 'India's Real Hero', 'Home Minister', the actor is now being compared to veteran actor Amitabh Bachchan. One of the reasons that he has earned these nicknames is in the way he is interacting with migrants asking them to not concern any longer and leave it up to him is really touching.
मुझे बहुत ख़ुशी है की आपके इस सफ़र का हिस्सा बन पाया। वापिस आकर मिलना ज़रूर।
ग़रीबों के मसीहा @SonuSood ( सोनू सूद ) देखिये @ndtvindia पर आज (27 मई 2020) को दोपहर 1:30 बजे
आपके संदेश हमें इस रफ़्तार से मिल रहें हैं। मैं और मेरी टीम पूरी कोशिश कर रहें हैं हर किसी को मदद पहुँचे! लेकिन अगर इस में हम कुछ मेसजेज़ को मिस कर दें, उसके लिए मुझे क्षमा कीजिएगा
वो क्यों मेरे घर आएँगे दोस्त। मैं उन सब के घर जाऊँगा। बहुत सारे आलू के पराँठे, पान और चाय उधार है मेरे भाइयों पर। Heart exclamation
I get the biggest awards every single day.. those smiles, those tears of joy. #blessed Folded hands
You will meet him again … soon Crossed fingers
I am so happy you reached your home Aman. चाय उधार रही भाई
Will connect them n try my best Folded hands
पूछा है तो कुछ तो करना पड़ेगा ना भाई।
आख़री उम्मीद से कभी नाउम्मीद नहीं होंगे। घर तो घर है Heart exclamation
While interacting with the media, Sonu was quoted saying "I will continue my work until every migrant worker reaches their home. I don't mind the hard work it requires but it is important for me that everyone reaches their home." Besides sending the migrant home, he has also taken noble cause of feeding more than 45,000 people every day in Andheri, Juhu, Jogeshwari, and Bandra.
He also opened up and quote saying "Initially, I spoke to some of the migrants here. They were in tears, and their kids were in bad shape. I requested some of them to wait for a day or two, stating that I will try to help," he recalls. He contacted friends who could help him reach out to the transport authorities, police officials and State Governments of Maharashtra and Karnataka to get the required permissions. "The logistics and paper work took effort; we obtained clearances and with all medical safety precautions in place, we managed to send 350 migrants to Karnataka. That was the first step."