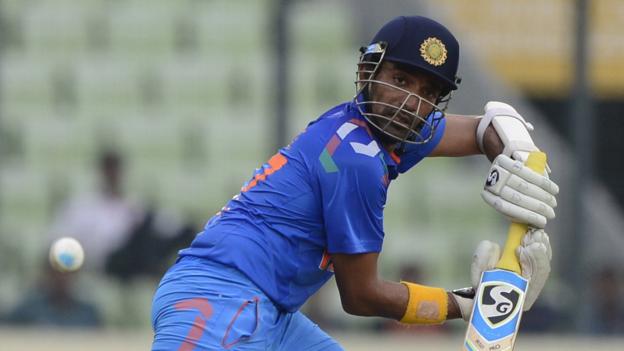 Robin Uthappa hails from Coorg, Karnataka. He is known for his improvised batting ability and hitting ramp shot at the Oval against England in 2007 is still etched in the mind of in cricket fans. He first came into the limelight after performing really well in the Challenger Series while representing India B. He gave fabulous performance subsequent Challenger Series in 2006. His hard work got the attention of the national selectors, Uthappa was picked up into the India ODI squad to play vs England at home.
He had a dream debut and went on score 86 runs at Indore. He was picked up part of the 50-over World Cup squad in 2007. He was picked in the the inaugural edition of the World T20 in the same year and was played in south Africa. Uthappa had a good outing and played all the matches in the tournament, which was won by India.
Indian cricketer Robin Uthappa last played an international match way back in 2015. Though he made his national team debut in 2006, he went on play only 46 ODIs and 13 T20Is so far. Robin Uthappa's international career never really took off but had a very successful run in the Indian Premier League and went on to score 3,380 runs and the majority of his runs came while playing for the Kolkata Knight Riders (KKR).
In the past Suresh Raina and Irfan Pathan has requested the BCCI to allow its cricketers participation in foreign T20 leagues. The recent player who is interested to play overseas is none other than Robin Uthappa. BCCI till date have not given permission to its contracted players of past and present to play in leagues other than IPL. In a time when the male cricketers aren't permitted on previous occasions, their women counterpart have played in the Women's Big Bash League in Australia and the Super League in England.
While interaction with BBC, Indian Cricketer was quoted saying "Please let us go, honest to God. It does hurt when we're not allowed to go and play. It would be so nice if we could go and play at least a couple of others because as a student of the game you want to learn and grow as much as you can."
Uthappa has been a veteran as far as IPL is concerned and featured in all the 12 seasons of IPL ever since its inception. He is quiet hopeful that tide might change with the current BCCI president Sourav Ganguly will have a look at the helm of the affair. He was quoted saying "Ganguly is a very progressive thinking human being, someone who has always looked to take India to the next level. He actually laid the foundation for where India cricket is now. We're hoping that he will look at this at some point."
A while back Suresh Raina had suggested that those players who aren't contracted with the BCCI should be given the approval to take part in two different foreign leagues. Chennai Super King player was of the opinion that participating in top league will help the players immensely and also will help to make an international comeback. Even Irfan, who retired this year, was offered to play in three foreign leagues before signing a contract with domestic team Jammu and Kashmir.
Robin Uthappa had a beautiful time playing with Kolkata Knight Riders at peak of his career. He was in constant contention for Orange cap and also took the wicket-keeper role for the betterment of the team. He was released by Kolkata Knight Riders, will be playing for Rajasthan Royals in next season of the Indian Premier League .