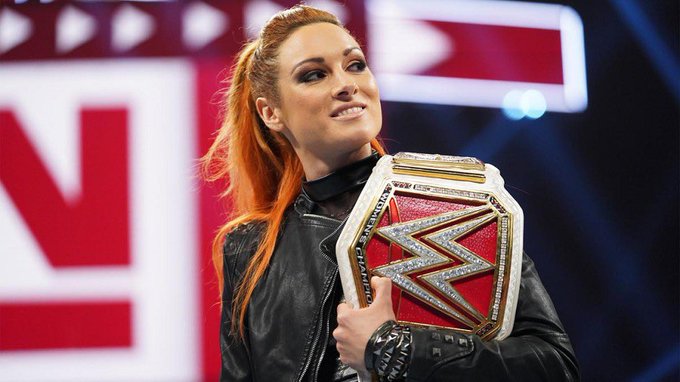 Becky Lynch is popularly known as the "The Man" in professional wrestling industry. She has taken the world of wrestling industry by storm in the last year and rechristened herself as the newest version of "The Man." Becky Lynch real name is Rebecca Quin and started training as a wrestler at a young age of 15-year-old in her home country of Ireland. she trained alongside WWE Superstar and fan favourite Finn Balor and under the tutelage of Paul Tracey. She enrolled in Balor's academy and had her first match in late 2002. Becky is one of the most loving wrestlers and has travelled extensively throughout Europe, Asia and North America prior to joining WWE.
Lynch was completed over 16 years in professional wrestling and signed a two two-year developmental deal with World Wrestling Entertainment in April 20113. Her first was on 26 June 2014 episode of NXT in which she defeated defeating Summer Rae and from there has been no turning back.
Becky has created history by breaking the record and has over the time become the most popular female wrestler in WWE. The news was confirmed by RAW Women's Champion Becky Lynch on twitter and informed that she is officially the record-holder for the longest single reign with the Raw Women's Championship, which was previously held by Ronda Rousey. As per WWE records, Becky Lynch has officially broken the record for most days as Raw Women's Champion, at 397 days, ending Alexa Bliss' previous record of 396 days.
Becky Lunch journey started when she won the Raw Women's Championship at WrestleMania 35 by defeating both Ronda Rousey and Charlotte Flair, capturing the SmackDown Women's Championship as well. Another record set by Lynch who became first women wrestler to complete one year as Raw Women's Champion.
A WWE superstar who defied all odds to establish herself in the time when had powerhouse of talent such as like Charlotte Flair, Sasha Banks, Bayley and other superstar. The world was eagerly waiting to see what is next in store for Lynch as she was ready to confront the winner of the Women's Money In The Bank match this Raw.
WWE superstar Becky Lynch appeared On the RAW and left everyone sad and happy at the same time with her latest annoucement. She informed the WWE world that she is pregnant and will be stepping away from the world of professional wrestling.
Lynch is engaged to fellow wrestler Seth Rollins. She has been Raw women's champion since last April and reqrelinquishing her championship to Asuka, who had won the "Money in the Bank" ladder match on last sunday. she took to social media to wrote an emotional message, "Tonight is no ordinary night for me. I'm torn between joy and sadness because I am at a place in my life where things are about to change and I needed to do something about it." Lynch revealed that she was forfeiting her championship over to her longtime rival to Asuka.
In the segment Lynch can be heard saying "You have been the best wrestler in the world for a long time and this is why I'm so glad that this is happening to you," Lynch said. "The match last night, it wasn't what you thought it was. The match last night was actually for the Raw women's championship. I can't fight anymore, but you can. You are the champion. You go and be a warrior because I am going to go and be a mother."
Following the message, an emotional Lynch and Asuka hugged each other breaking character before Lynch left backstage. Post the commercial break, Lynch was circled by fellow WWE colleague congratulated 'The Man'.