Bhopal Gas Tragedy brings back the horror memory in which thousands of people lost their lives. The horrific accident took place in 1984 in the city of Bhopal, Madhya Pradesh in India and was known as the worst industrial accident in history. The said event occurred on the cold winter night in the early hours of 3 December, 1984 when the chemical reaction started in the Union Carbide (India) Limited factory which led to the leakage of deadly Methyl Isocyanate (MIC) gas from one of the tanks of the factory.
This resulted in a cloud of gas gradually began downward and enveloping the whole city in its deadly folds. Soon the city as well as lakes turned into a gas chamber. As per reports citizen started suffering dizziness, breathlessness, skin irritation, rashes, and sudden blindness, etc. on top of it The Doctors had no experience in dealing with the industrial disaster. The two government hospitals of Bhopal treated approximately 50,000 patients in two days post the MIC leakage.
The whole of India woke up to the sad news of the Vizag Gas Leak which has taken at least six persons are dead and hundreds sick after gas leaked from the LG Polymer plant at Gopalapatnam on the outskirts of Visakhapatnam. The said incident occurred at around 3 am in the early hour of the morning. The first sign came when people who were sleeping, had trouble in breathing.
People our comparing the said incident similar to the first episode of the television series Chernobyl. Hundreds of resident living near the LG Polymers company at RR Venkatapuram in Gopalapatnam area of Visakhapatnam as a massive gas leakage took place in the wee hour's life has become a nightmare. The plant was shut for the past 4 days during the lockdown. As per reports, the management was planning to open the plant from today and this horrific incident took place. 
Various videos are circulating on social media in which we saw Disturbing scenes of people vomiting, lying down in the streets motionless are come forward. As per reports effects can be even at four to five kilometres away from the plant. As per official reports as of now 3 people have passed away, which consist of a child and an old person, the toll can shoot up enormously as numerous individuals were not rescued till early morning as they got trapped in their houses.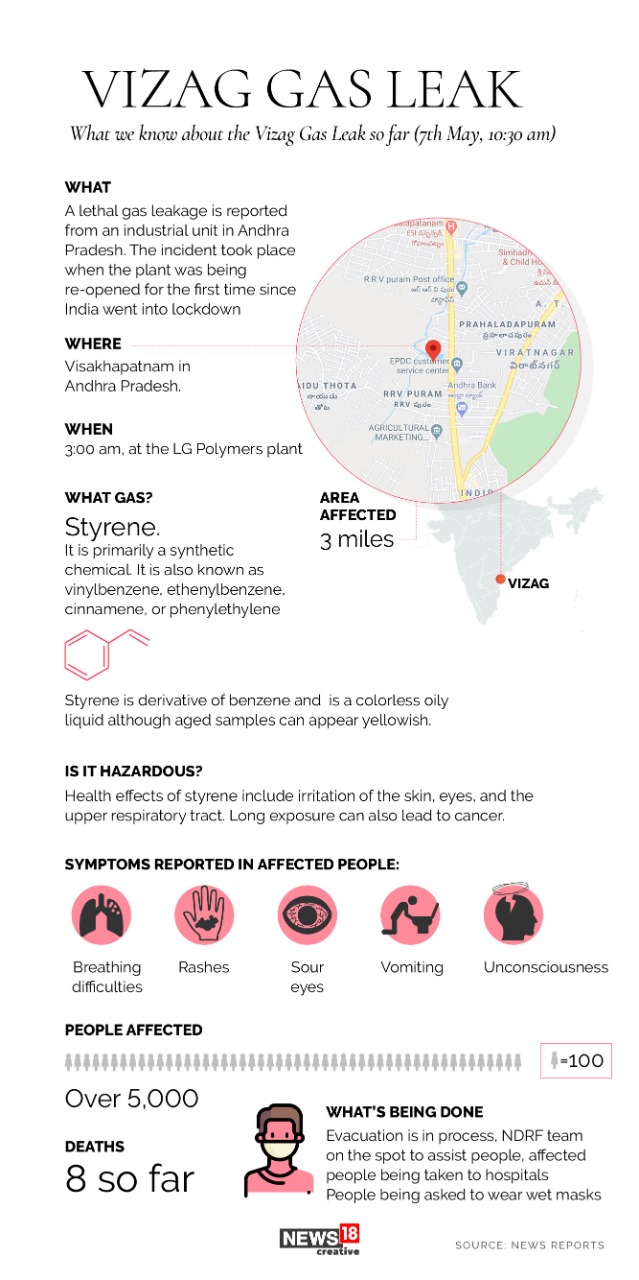 Also 20 villages near the plant will also bear the brunt of the Gas leakage. Chief Minister YS Jagan Mohan Reddy has informed the district collector and the police commissioner to take necessary steps to curtail the situation. The government also has asked the Simhachalam temple to lodge the evacuated individuals. The police and fire and emergency services have started evacuating a 5-km radius area. Vizag Collector V Vinay Chand said: "The situation is being monitored with NDRF and SDRF officials at work. We are doing everything possible."
Prime Minister Narendra Modi took to social media and informed the nation the he had an interaction with the officials of the Ministry of Home Affairs and NDMA and was quoted saying "Spoke to officials of MHA and NDMA regarding the situation in Visakhapatnam, which is being monitored closely. I pray for everyone's safety and well-being in Visakhapatnam."