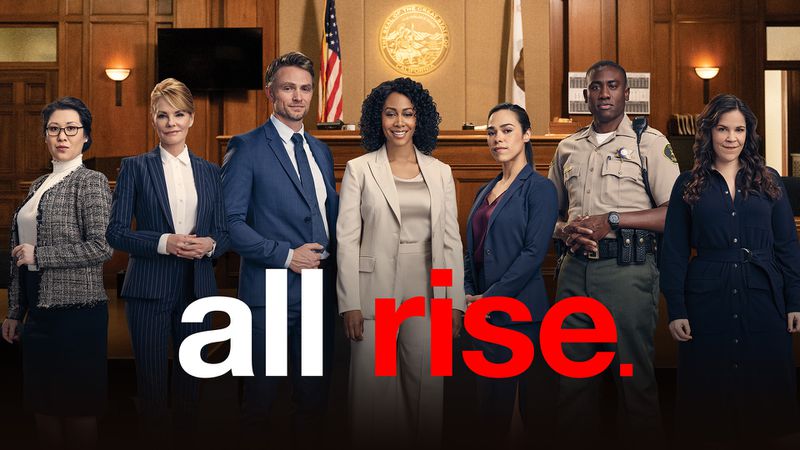 Over the years, we have seen more serials giving a light into Legal profession which are not only high on drama but also gives us a look inside the highly contested court room battle.
We have seen great amount of engrossing series that have captured audiences over many decades. Latest show which is becoming fan favoured in this genre is CBS' Courtroom 'All Rise'. The show follows the journey of a newly appointed judge who along with prosecutors, and public defenders to work together to get justice for the people of Los Angeles against the backdrop of a flawed legal system. 
The show main protagonist is newly appointed Judge Lola Carmichael (Simone Missick) who is strong, smart and compassionate judge and counsellor, often giving valuable advice to colleagues, as well as lawyers and their clients. She has an unorthodox method and who always challenges the status quo shocking the establishment judges and attorneys who are used to a certain way of doing things. The show is not only entertaining but also able to bring to light various topical issues with a breath-taking pace.
To make sure justice is served goes extra mile as a result Lola looks at a broken system and works to change it for the better, but also gets into trouble by sidestepping the rules. During this tough, she can be seen having chats in the stairwells with friends who also in the judicial system and getting personally involved in the lives of public defenders and their clients. The show features Wilson Bethel is Mark Callan, Marg Helgenberger is Lisa Benner, Jessica Camacho is Emily Lopez, J. Alex Brinson is Luke Watkins, Lindsay Mendez is Sara Castillo, and Ruthie Ann Miles essays the role of Sherri Kansky.
The show makers Greg Spottiswood have become the first U.S. scripted television series to adapt the pandemic by producing an episode remotely. The season finale will be aired today night on CBS and the viewers will get to watch Judge Lola Carmichael presiding over a Los Angeles Superior Court bench trial via video conference.
While interacting with the media Simone Missick opened about shooting the show during these tough times and was quoted saying "I did pick up new skills. I think that I could be a location scout-slash-set design coordinator. I don't need to lead the department, but I could be in the background. So, if this acting stuff doesn't work out, I could maybe pick up a career doing it virtually because that was the fun part."
All Rise creator Greg Spottiswood opened up on how stay-home orders affected the shooting the show and is of the opinion the dialogue-heavy nature of his show allowed for remote production. A major challenge — predicting how the legal ecosphere to adjust to the novel coronavirus, with prisons becoming outbreak hotspots and video chats replacing in-court hearings. "The justice system needs to find a way to respond to this moment. Technology is one of the ways that they're responding to it."
During this tough time Missick mother-in-law who is stationed in Atlanta was hospitalized with COVID-19 for eight days, after having symptoms and also was also on a ventilator. As of today, she had fully recovered and Missick started shooting. In the lockdown Missick is watching shows such as Little Fires Everywhere and the Unorthodox.  she was quoted saying "Everything is BC. It's 'before coronavirus.' You're watching people — they're in restaurants, they're hugging each other. You're like, 'God, I remember what that was like.' Now, I think every show that comes after is going to have to deal with what this pandemic is."