Irrfan Khan was undoubtedly one of the finest actors of our country. He had captivated our hearts and redefined with his acting ever since his first Movie. His dedication and realness oozing out through his characters on the big screen. He has gone leaps and bound by making a mark from TV serials as well as his journey to Bollywood grew to become simpler.
The talented actor had featured in iconic Television shows such as Chanakya', 'Discovery of India', 'Sara Jahan Hamara', 'Banegi Apni Baat', 'Chandrakanta. The Lunchbox actor has always stood outshine all the other actors in the industry and carved a niche for himself by delivering performances which were just a breath of fresh air time and again.
Irrfan Khan was diagnosed with a neuroendocrine tumour in March 2018 and travelled to London for his treatment. Post his treatment flew back to India in February 2019 to start shooting for Angrezi Medium. But he went again to London at returned to India in September last year after surgery and treatment in London. Irrfan Khan was last seen in Angrezi Medium, which was released a week before the lockdown was declared in India. Though he could be part of promotional activity of the movie by spoke to his fans via a video message ahead of the trailer release of the movie. The movie got a digital release on Disney+ Hotstar in the wake of the coronavirus crisis and featured actors such as Kareena Kapoor Khan, Radhika Madan, and Deepak Dobriyal in pivotal roles. The film has been produced by Dinesh Vijan.
Actor Irrfan Khan at the start of the week was admitted to Kokilaben Dhirubhai Ambani Hospital and soon rumours started of a death hoax. This led to his representative to release an official statement, "It's really disappointing to know that there are extreme assumptions being made about Irrfan's health. While we are truly appreciative that people are concerned, it's disheartening to see some sources spread extreme rumours and creating panic."
As the whole world knows The Namesake actor was successfully treated for a tumour last year, and was kept under observation in the intensive care unit in the Mumbai hospital. His condition stated decline as he suffered from a colon infection. While interacting with the media, family spokesperson was quoted saying "Irrfan is a strong person and is still fighting the battle."
As news of Irrfan Khan's hospitalisation spread went viral, Piku actor the actor's spokesperson released this statement: "Yes, it is true that Irrfan Khan is admitted to ICU at Kokilaben in Mumbai because of a colon infection. We would keep everyone updated. He is under doctor's observation. His strength and courage have helped him battle and fight so far and we are sure with his tremendous willpower and prayers of his well-wishers, he will recover soon."
If sources are to believe his family consisting wife Sutapa Sikdar and his sons Babil and Ayan Khan are at the hospital. Bollywood actor Irrfan Khan who is known for found internationally acclaim for roles in Slumdog Millionaire, The Amazing Spider-Man Spiderman and Jurassic World, has passed way at the age of 53. The news was confirmed by the statement released by his PR company confirming his death said, "surrounded by his love, his family for whom he most cared about, he left for heaven abode, leaving behind truly a legacy of his own. We all pray and hope that he is at peace".
Really sad and heartbroken to hear about the passing away of versatile actor #IrrfanKhan. May his soul Rest In Peace. We will miss you #IrrfanKhan saab. #RipIrrfankhan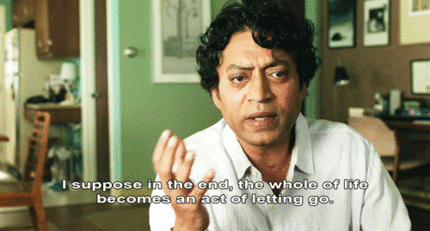 Friends and colleagues of the actor poured in Tributes to Irrfan Khan post hearing the news of his passed away in Mumbai. Here are a few reactions on Twitter:
Such terrible news…saddened to hear about the demise of #IrrfanKhan, one of the finest actors of our time. May God give strength to his family in this difficult time
🙏🏻
Nothing can be more heartbreaking and tragic than the news of passing away of a dear friend, one of the finest actors and a wonderful human being #IrrfanKhan. Saddest day!! May his soul rest in peace. #OmShanti 🙏
T 3516 – .. just getting news of the passing of Irfaan Khan .. this is a most disturbing and sad news .. Folded hands An incredible talent .. a gracious colleague .. a prolific contributor to the World of Cinema .. left us too soon .. creating a huge vacuum ..
Prayers and duas
Saddened to hear the passing away of #IrrfanKhan. A wonderful actor. Gone too soon. My heartfelt condolences to his family and friends.
Rest in peace #IrrfanKhan – brilliant actor & a caring human being who never shied away from speaking the truth. His passing is a major loss for Hollywood as well as the Indian film industry. Can't help but recall @irrfank's short but iconic performance in #LifeOfPi
My dear friend Irfaan. You fought and fought and fought. I will always be proud of you.. we shall meet again.. condolences to Sutapa and Babil.. you too fought, Sutapa you gave everything possible in this fight. Peace and Om shanti. Irfaan Khan salute.
Saddened by the untimely passing of #IrrfanKhan sir🙏 condolences to the family🙏🙏 gone too soon.
The charisma you brought to everything you did was pure magic. Your talent forged the way for so many in so many avenues.. You inspired so many of us. #IrrfanKhan you will truly be missed. Condolences to the family.
you will live through you brilliant work in our hearts for foreve, you are irreplacebale dear friend ..our conversations on spirituality, books, films..will remain with me as a treasur #IrrfanKhan #RestInPeace
You will forever be remembered for your craft and the legacy you leave behind. One of a kind #IrrfanKhan.. had the opportunity to work with you .. It's sad that you were taken away at your creative peak .. My prayers are with your family 🙏🏻 ❤️ Bless them at a time like this
Extremely sad and disturbing. One of the finest actors of our times and from what I remember of him from a news studio – a good, kind soul. #IrrfanKhan may you RIP
This is just too sad. I'd worked with #IrrfanKhan in Supari, not our best, but we had a wonderful time together. We met a few times after that & will always treasure the warmth. Not to mention the loss of an incredible actor. Will rewatch his flims to celebrate his life and work.
Such heartbreaking news ,an incredible Artist with an iconic Legacy of work . Gone too soon . He was an inspiration to me and many . #IrrfanKhan A great loss to cinema and the craft . May your soul RIP. Deepest condolences to his family .#RIPIrrfanKhan
Deeply saddened by the news of #IrrfanKhan's untimely demise. A brilliant actor gone too soon. He will be truly missed… My heartfelt condolences to his family and loved ones. RIP
He etched every character in our memories with sheer talent. From the passion of Pan Singh Tomar to a floundering father in Angrezi Medium #IrrfanKhan was an actor to behold. How do you mourn his passing away for he breathes in the characters he left behind .. Om Shanti
Saddened to hear about the untimely demise of #IrrfanKhan. Just a few days back I had watched his last film Angrezi Medium on TV along with my family.
His talent and acting was beyond words. May his soul rest in peace.
In grief on reading of the passing of #IrrfanKhan. So much energy, so much intensity taken away so soon. My heartfelt condolences to Sutapa and the children. His work lives forever.
Sad to hear the news of #IrrfanKhan passing away. He was one of my favorites & I've watched almost all his films, the last one being Angrezi Medium. Acting came so effortlessly to him, he was just terrific.
May his soul Rest In Peace. 🙏🏼
Condolences to his loved ones. Frowning face
Deeply disturbed to hear about the passing of #IrrfanKhan . Such a brilliant actor, gone at the age of 53. My heartfelt condolences to his family. May God give them strength to bear this loss. RIP Irrfan
So Sad to hear of the untimely death of Irrfan Khan, one of India's most talented & versatile actor. Gone to soon my friend. You will be missed. My heartfelt condolences to the family. May god give them strength during this difficult time. R.I.P Folded hands #Irrfankhan #RIPIrrfanKhan