The craze of Twenty20 cricket started in our country ever since India won the inaugural World Twenty20 cup in 2017 under the leadership of Mahendra Singh Dhoni. The Indian Premier League is one of the most-watched cricket leagues in the world and garnered a lot of popularity ever since its inception in 2008. The league has allowed a lot of youngsters to play international cricket and has revolutionized the sport.
Yuvraj Singh is known for his stylish left-handed batsman hitting fours and sixes in all directions, strikes our mind. He is one individual for whom life has been very unfair for a lot of times, but always stood the test of time and proved his mantle time and again. He has played a crucial role in India's victory in the U-19 World Cup in 2000 or the World T20 in 2007 or the 50-over World Cup in 2011. Yuvi has given us memorable performance ever since his debut when he scored 84 against the mighty Australians on his debut match or in the Natwest final at lords played a crucial inning by scoring 69 runs. Cricket fans also can never forget the 6 sixes to Stuart Broad's bowling in the 2007 World T20.
Yuvraj Singh along with team mate Mohammad Kaif had an Instagram live session and discussed about a lot of topics during the India lockdown. The two NatWest Trophy heroes discussed about their cricketing journey and how they developed his exceptional fielding capabilities. The all-rounder also opened about the pressure of the IPL and how it can affect a player's performance. Yuvraj Singh has played for various team for the 11-year-long stint in the cash-rich league with multiple lucrative contracts. He started his IPL career as the captain of the Kings XI Punjab in the inaugural IPL for a hefty ₹4 crore price-tag. Soon he 2011 he was picked by Pune Warriors India for 8.28 crore and appointed as the captain of the Pune Warriors India.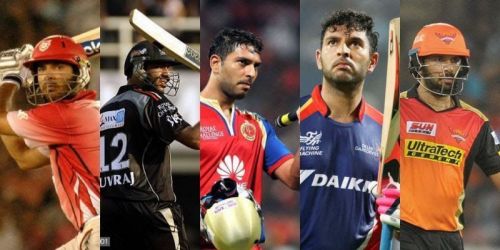 In 2014, Yuvi was picked up at the auction by the Royal Challengers Bangalore for 14th crore and he didn't disappoint the fans as well as the owners and went on deliver his IPL performance during the said season. His successful performance led to him becoming the most expensive purchase in the history of the IPL when the Delhi Capitals paid ₹16 crore for the all-rounder's services. But couldn't live up to the expectation and was released from the club. In 2018, the team he was picked by former the Kings XI Punjab and bought him up for his base price of ₹2 crore. He went on score 65 runs in eight matches that season and was released by KXIP. In the 2019 Auctions, no team was interested in Singh but the Mumbai Indians paid ₹1 crore to grab Yuvraj's services for his base price. The highlight was though he played very few matches but the team won the IPL title.
While interaction with Mohammad Kaif, Yuvraj Singh opened about on how pressures of being high-budget buy it can affect a player's mental state when they are not able to perform. Yuvi was quoted saying "The pressure is felt because of the big (IPL) money. I won't say it changes a player. Now when you climb the success ladder, people try to drag you down. See the point is…pressure is there because when you get out and don't perform they say he is getting so much money and not performing. Negative news sells more and those things affect you. My advice to all youngsters would be to stay away from TV and newspapers."
Two Time World cup winner wasn't only known for his all-round ability and also known for his sharp fielding. He shared anecdote from his childhood and quoted saying "I was very athletic. I was quick. But fielding I did not have too much idea. In the first Ranji match I was playing; I was 15-16 years. I mis fielded and next day article came out Yuvraj Singh 'gateway of India'," he recalled. "My father read that. He said now I will see how you don't improve your fielding. Then I started getting better and body also got stronger."
He announced his retirement from international cricket in June 2019. Post-retirement he has featured playing franchise based leagues around the world.
As per latest update, the Indian Premier League 2020 has been suspended until further notice. The news was confirmed by BCCI and official statement was released wrote, IPL Governing Council of the Board of Control for Cricket in India has decided that the IPL 2020 Season will be suspended till further notice, due to COVID19: Jay Shah, Secretary, BCCI