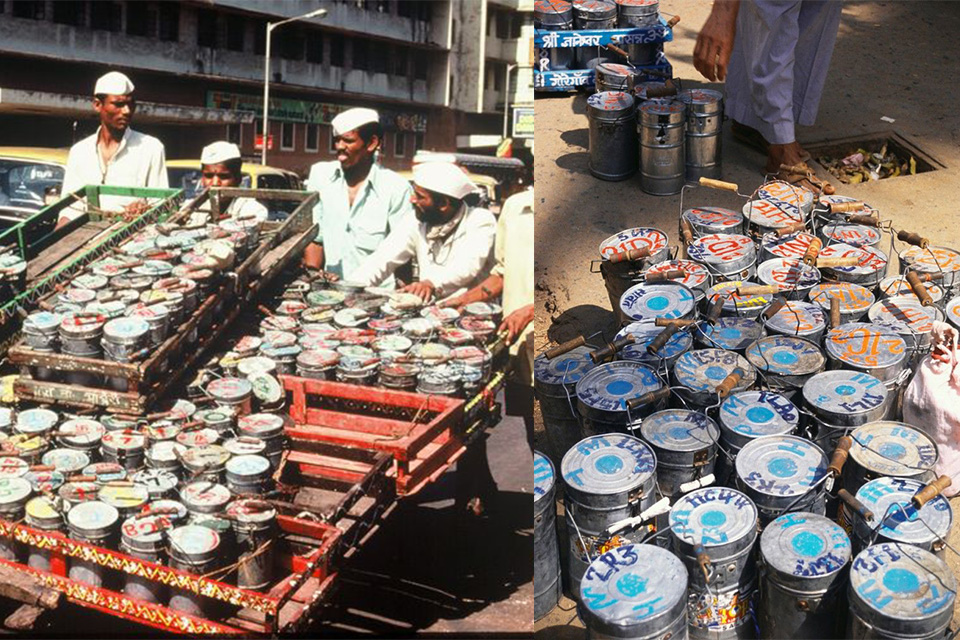 Whenever Dabba comes to our mind, we go back to our school days we used to take tiffin to the school to have during the lunch break. Also, the dabbawallas comes to our mind who deliver a lunchbox delivery service in which hot lunches from homes and restaurants to people at work in Mumbai. Every day the lunch box representative start collect tiffin from the late morning and use the transport mode such as bicycles and railways trains to respective individual. Their service is also been used by meal suppliers in Mumbai to transport their ready-cooked meals from central kitchens to customers and back.
The dabbawallas service was started then Bombay (now Mumbai) way back in 1890 and had approx. 100 employees. In 1956 a charitable Trust by the name of Nutan Mumbai Tiffin Box Suppliers Trust was registered and its commercial trust was registered under the name of Mumbai Tiffin Box Supplier's Association in 1968. The service was started during the British Raj in the 1890s as it was hour of the need, as from various part of the country reached Bombay with a vision of better life.
But there weren't enough office canteens or restaurants around to calm the hunger pangs. Also, there was no system as to where can officer staff have their meals. But with sheer dedication and hard work the idea of delivering home-made food was born.
The current President of Mumbai dabbawalla association is Subhash Talekar and also known for giving motivational lectures to IM, IIT, CII, BSE, and many corporate houses. Also, another interesting fact is that Subhash Talekar is a third generation dabbawala who followed the footsteps of grandfather and father who were also dabbawallas. He is also known for starting dabbawala roti bank and dabbawala kapda bank in Mumbai. Roti Banks main objective is to collect all the left-over food from small functions, big parties, wedding ceremonies and distribute it to the less fortunate. While Kapda bank main vision is to collect clothes from all over Mumbai and distributes in adiwashi areas.
Also, it is vert fascinating to note that most of the tiffin-wallahs hail from Varkari sect of Maharashtra and are from a small village near Pune. Each representative is paid around 8,000 rupees per month as per stats in 2014. Also, Dabbawala aren't that educated and most of them to studies till 8th class but are known for their punctuality and dressing sense. There are 6 different picks up point from there where they get transferred from person to person, before it reaches the final destination. As informed earlier most of the delivery
As many of the transporter are of limited literacy, the dabbas (boxes) have some sort of distinguishing mark such as Abbreviations for collection points, Colour code for starting station, Number for destination station, Markings for handling dabbawala at destination, building and floor. In today's time when every big food giant has partnered with Zomato or Swiggy, but Dabbawalas have their old school practice and has a reach an extraordinary momentous in delivering the food without any mistake. We really need to respect their dedication if they have subscribed to their service you will get your "Dabba" delivered on time irrespective of the circumstances.
Due to this kind of work ethics has got a lot of appreciation for the founders of Virgin group- Richard Branson and the Prince Charles .  As a result, the spokesperson and president of the organization was also invited to the marriage of Royal couple in England.
On March 25, our honourable Prime Minister Narendra Modi announced a 21-day nationwide lockdown in order to fight against the COVID-19 pandemic. Seeing the hour of social distancing, Dabbawalas also known as the lunch box carriers who are known for deliver people's home-cooked lunches in tough situations such as heavy floods and terrorist attacks, but services were stopped due to coronavirus way ahead the lockdown was declared forcing 5,000 delivery employees  to stay at home.
The president of Mumbai Dabbawala Association, Subhash Gangaram Talekar released a statement and wrote "Even if we resume operations, it will be pointless because everyone is staying at home. Who will we deliver the dabbas [lunch boxes] to?"
They are an inspiration for the entire country for creating new era of revolution in business ecosystem. The Dabbawalas are great case study example to match for everyone. For anyone traveling to Mumbai should go ahead and explore Mumbai and see the amazing skills of these Dabbawalas.