Sachin Tendulkar is a legend of the game of cricket and also loved all across the Globe. He is one of the greatest batsmen in the history of cricket. Sachin Tendulkar was born on April 24, 1973, in Bombay, India. He started his playing the sport at the age of 11-year-old and when he was given his first cricket bat. He along with Vinod Kambli created a record at the age of 14-year-old scored 326 out of a world-record stand of 664 in a school match. Tendulkar made his debut in the national Indian team at the age of 16 becoming India's youngest Test cricketer.
Today is special for the cricket fans as on March 27, 1994, Sachin Tendulkar started opening for the first time in ODI cricket. This decision brought about major turnaround in Tendulkar's career as he went on to create history by becoming one of the most prolific batsmen in the format.  In the 90's the openers used to go after the bowlers from the first bowl of the over.    
Tendulkar pestered the team manager Ajit Wadekhar and then Indian Skipper Mohammad Azharuddin to give him a chance to open the innings. In his Autobiography, Playing It My Way gave an insight into the interaction and wrote "I went up to Azhar and our manager Ajit Wadekar, a former Indian captain and a leading batsman of his time, and pleaded with them to give me an opportunity at the top of the order."
Sachin Tendulkar before opening for Team India used to bat at the middle order and scoring 30s, 40s in the five-six overs which he used to get. Azharuddin considered it as a wastage of his true potential.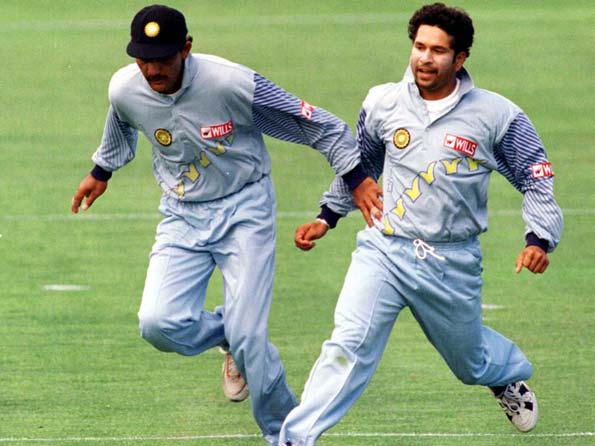 While interacting with the media, Azharuddin was quoted saying "I was thinking of asking him to open the innings for some time. He was batting at No. 5 or No. 6 at the time and was getting five or six overs to play. He was scoring 30s or 40s or 50s or 60s, scores that were considered good enough for someone batting at that position. I thought we were wasting such a good attacking batsman batting so low. For me, he was the No. 1 batsman in the team. So, I made him open."
Tendulkar first opening partner was Ajay Jadeja vs New Zealand in Auckland who batted first and were bowled out for 142. On his first match as an opener went on to score a 49-ball 82, the inning consisted of 5 fours and two sixes. India went to chased down the score in 23 overs. The rest as they are history and there was no looking back for the 'God of Cricket'. It's a match Indian fans have not forgotten till date. The Kiwis certainly are still wondering what had hit them on that fateful day.
Tendulkar opened about in his autobiography the reason he felt right to open the innings and said "Why did I think I should open? Well, I had the ability to attack bowlers and plays shots from the word go, and in one-day game, the key was to take advantage of the field restrictions in the first 15 overs. I was sure that I just needed a chance to prove myself."
Tendulkar was a symbol of hope for his countrymen and dubbing him "The Last Hero" for his nation.  During his cricketing tenure became the first cricketer in 2005 to score 35 centuries (100 runs in a single inning) in Test match. In 2008, he reached another major milestone by surpassing Brian Lara's mark of 11,953 Test runs. Tendulkar took home the World Cup with his team in 2011, and retired from the game in 2013. Master Blaster went on to play in 463 ODIs and scored 18426 runs with 49 hundred. While as an opener appeared in 344 ODIs and amassed 5,310 runs including 45 centuries.
Amid Coronavirus Outbreak, Sachin Tendulkar urged the nation to stay at indoors and not to step outside their homes and to take the pandemic seriously. In the video he also shared a very important message of keeping oneself isolated in their houses and following advice to to honour the services of the medical professionals. He wrote Our government and health experts have requested us to stay at home & not venture out. Yet many people are doing so. My family & I are at home, will not be stepping out for the next 21 days. I request you all to do the same. #CoronavirusLockdown