Ever since the outbreak of coronavirus pandemic the whole world is talking about at the alarming rate of global spread. Extraordinary times call for extraordinary measures and Arvind Kejriwal along with Delhi Lieutenant Governor Anil Baijal informed that Delhi will be on Lockdown which started from today to battle the highly contagious novel coronavirus, also known as COVID-19 – Chief Minister Arvind Kejriwal took to social media and informed citizens in the city to "join the fight against COVID-19".
Today when the national capital is on lockdown, let us remember the brave hearts who laid out their lives for us, and our Independence. March 23rd is a very important date for the nation as it was today, we celebrate Shaheed Diwas or Martyrs' Day and pay homage to the three brave freedom fighters were hanged by the British. Bhagat Singh, Shivaram Rajguru and Sukhdev Thapar were inspirational revolutionary freedom fighters whose courage will always inspire & guide generations to work towards nation-building. Revolutionary Freedom Bhagat Singh, Sukhdev & Rajguru made the supreme sacrifice for the country nation on this day in 1931. They were hanged by the British for assassinating John Saunders, a British police officer in 1928.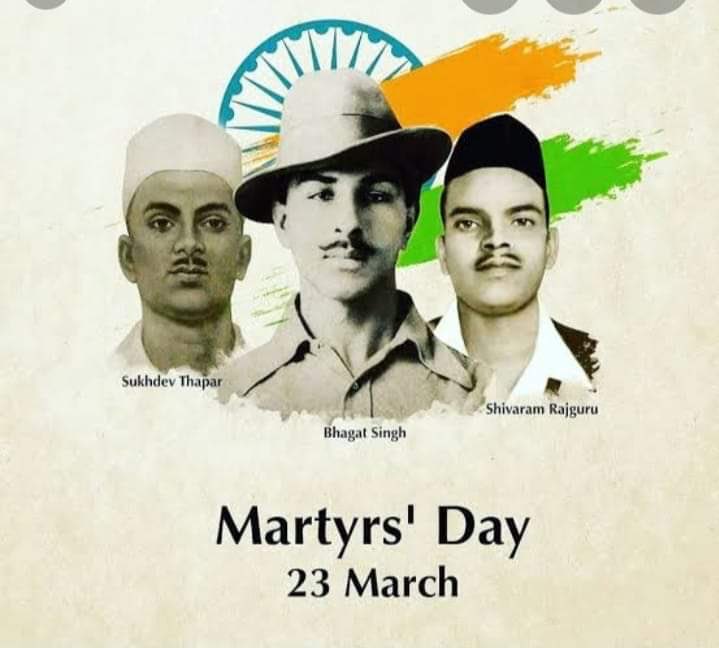 Bhagat Singh was a revolutionary leader and had a dynamic personality. He also popularized the phrase 'Inquilab Zindabad' in his speeches and writing. Bhagat Singh loved reading books and some of his favourite authors were Lenin, Charles Dickens and Maxim Gorky. He was hugely inspired by the works of the Bolshevik Revolution. During his time in jail, he wrote a letter to his childhood friend asking for books such as The Soviets at Work, Materialism by Karl Liebknecht, Left-Wing Communism, Land Revolution in Russia to name a few.
His love of art and culture went beyond books as Bhagat Singh during his college days was active in theatre and took part in were Samrat Chandragupta and Rana Pratap. One of his famous quotes which is still echoed in the heart and mind of the nation is – "Zindagi to apne damm par hi jiyi jaati hain. Dusron ke kandhe par toh sirf janaze uthaye jaate hain."
Citizens across the nations pay tribute to the young inspirational souls like Bhagat Singh on this day. Special programmes are held in Schools and colleges such as speech or drama to pay tribute to the revolutionaries, who were not frightened even in the face of death. On television channels, we get to see the movie adaptation of Bhagat Singh and his comrades' lives on this day.
In the wake of the rising cases of coronavirus across the country, no programme has been organised to mark the martyrdom day of the revolutionaries. As per the latest development, numerous Union Territories and states such as Punjab have declared a lockdown to restrict locals from gathering at any location to contain the spread of COVID-19. The lockdown in states will remain till March 31.
Even the programmes which used to take place in near India-Pakistan border in Ferozepur and at Bhagat Singh's native village have been adjourned by the concerned authorities. Citizens across India have paid tribute to the freedom fighters via Twitter. #ShaheedDiwas and #Bhagat Singh are trending on social media ever since the morning. PM Modi pays this his tributes to the Shaheeds: "शहीद दिवस पर मां भारती के महान सपूत वीर भगत सिंह, सुखदेव और राजगुरु को कोटि-कोटि नमन। देश के लिए उनका बलिदान कृतज्ञ राष्ट्र सदा याद रखेगा। जय हिंद!"
My tribute to the great Indian freedom fighters and brave revolutionaries Bhagat Singh, Sukhdev and Rajguru on #ShaheedDiwas. Their supreme sacrifice for our freedom shall continue to inspire generations.
We can never ever forget them and their sacrifice in service of our motherland #BharatMata Our combined duty to uphold their ideals. They fought for independence, we must fight to keep their memories alive by fulfilling their mission of making our country great #ShaheedDiwas
lakh lakh parnam shaheeda nu 🙏#23march
I'm a man & all that affects mankind concerns me.
#BhagatSingh #Sukhdev #Rajguru
#ShaheedDiwas
फांसी का फंदा जिनका इंकलाब हिला ना सका, जिनकी क़ुरबानी मुल्क आज भी भुला ना सका, मरकर जिनका चोला बसंती हुआ , ऐसा इतिहास दोबारा लिखा जा ना सका!
I bow down to my idol #BhagatSingh!
#ShaheedDiwas #Sukhdev #Rajguru
Zindagi toh apne dum par hi jee jati hai… dusro ke kandhe par toh sirf janaaze uthaaye jaate hai' #ShaheediDiwas
Shaheed E Azam BHAGAT SINGH 🙏🏾🙏🏾 Rajguru Sukhdev 🙏🏾
Lakh Lakh Parnam Shaheeda Nu 🙏🏾 #23March
"…by crushing individuals, they cannot kill ideas."
#ShaheedDiwas Folded handsFolded hands
Salute to the valor of the our freedom fighters Shaheed #BhagatSingh #Sukhdev & #Rajguru on the day of their martyrdom.