The case brought shudder to the minds of the incident which occurred on 16th December 2002, when the 23-year-old women student was brutally attacked and raped in a moving bus in South Delhi. The Student was studying to become physiotherapy was beaten, tortured and gang raped on the horrific night on 16the December in Munirka. She was travelling home after watching a movie with friend Awindra Pratap Pandey and boarded an off-duty charter bus in which they were six other individuals.
Soon the bus started moving forward but took wrong road and shut doors of the vehicle. The friend, Pandey released something was fishy and objected to stop the bus and followed altercation as the drunken men started molesting her. Her friend was beaten badly with a rod and post that the drunken men dragged her at the back of the bus and gang raped of hours.  The juvenile perpetrators inserted an iron rod into her private parts which led to ripping of her intestines. The bus driver continued drive all around the Delhi as this heinous crime took place.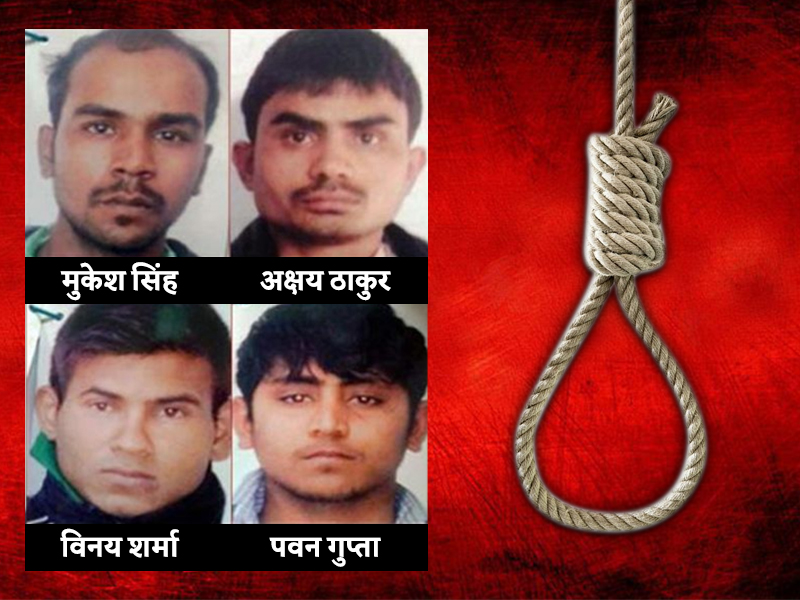 Post the brutal crime both of them were deported of the bus and left die on the street. They were found half dead by a passer-by who called the police authority. She was rushed to the Safdarjung Hospital for further treatment by doctors got to know that she had only five percent of intestines left inside her body. She succumbed to her injured and passed away on 29th December.
The gang rape and murder led to public outcry across the country and also brought about the change in passing of the Criminal Law (Amendment) Act in 2013, which widened the definition of rape and made punishment more severe. The law also stated that the sentence for gang rape was increased to 20 years to life imprisonment from before 10 years to life imprisonment.
Indian rape laws don't permit the media to use the real name of the victim and as a result was termed 'Nirbhaya' which means 'fearless'. She was honoured with the International Women the International Women of Courage Award from the US Department of State, posthumously.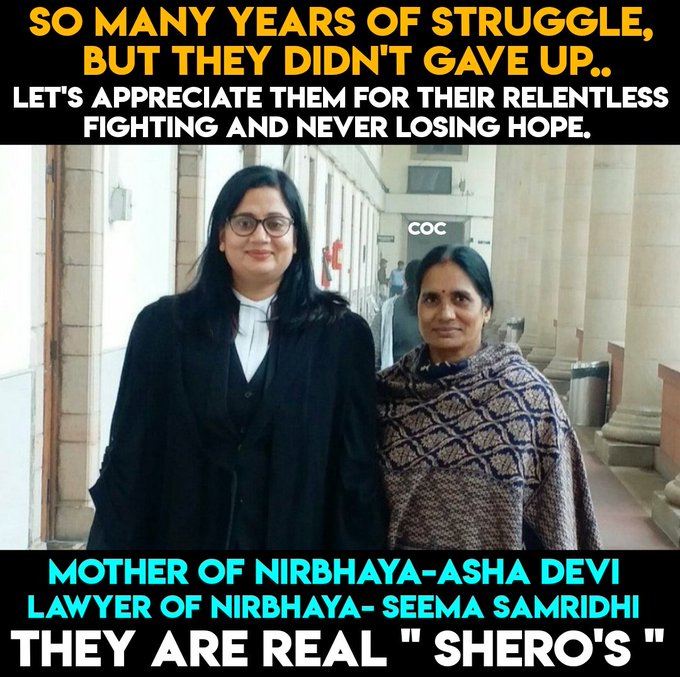 The law finally caught up with all the six monsters who did such a heinous crime and were convicted by the court. Their identity was also revealed to the public – Ram Singh, Mukesh Singh, Vinay Gupta, Pawan Gupta, Akshay Thakur and a juvenile. The bus driver Ram Singh committed suicide on 11th March 2013. As per the law, juvenile was tried separately and was given the maximum sentence of three years imprisonment in a reform facility. In September 2013, the trial court had awarded capital punishment to the convicts namely Mukesh, Akshay, Pawan and Vinay. Immediately, the remaining three offenders instead of Akshay had sought review of the judgement and was dismissed. The Supreme court on 18th December even dismissed review petition filed by Akshay.
All ll four convicts gangrape and murder case (Akshay Thakur, Pawan Gupta, Vinay Sharma, and Mukesh Singh) were hanged at 5:30am in Tihar jail today. A source was quoted saying that "Convicts Mukesh & Vinay had dinner & Akshay had only tea, last night. Vinay cried a bit but all 4 convicts were quiet." Their bodies were sent for post-mortem, after which If their families claim their bodies it will be handed over to them or else it is our duty to cremate by the police.
Asha Devi, the mother of the 23-year-old physiotherapy student was seen huggin the image of her daughter and was quoted saying "Finally they have been hanged. It was a long struggle, but today we have got justice. This day is dedicated to the daughters of the country," she told the media. Also urged She urged the Supreme Court to "issue guidelines so that no one can adopt delaying tactics in such cases in future."
Prime Minister Narendra Modi also took to social media and wrote "Justice has prevailed. It is of utmost importance to ensure dignity and safety of women."
The crime against women as been on a rise ever since the Nirbhaya case of 2012 leaves Capital red-faced.  The police have taken many steps to reduce crime against women like dynamic identification of crime-prone areas, deployment of police resources, dedicated women helpline no. 1091, exclusive women help desk at police stations, anti-stalking services for women, stationing all-woman PCR vans in vulnerable areas,
The unit will consist of 16 members and will patrol the streets of north-east Delhi and their task is to averting crimes against women in vulnerable areas of the city by both "approachable" and "effective" ways. Delhi Police's special women's patrol unit will ride pink-and-white scooters and wear pink helmets.
The route will consist of Maujpur, Babarpur, Durgapuri, Nand Nagri, Main Wazirabad Road, Yamuna Vihar, Bhajanpura, Khajuri Chowk, Shastri Park, Dharampura and Pusta Road– clocking a total distance of about 20km, twice every day.