Ratan Lal became overnight star amongst his peer last year because of his moustache which resembled Wing commander Abhinandan Varthaman, the national hero who shot down a Pakistan F-16 fighter jet. A year has passed and head constable succumbed to his injuries but had an honourable death with bravely fighting rioters in north east Delhi. He started his career in the Delhi Police as a constable in 1998. He was currently situated in Gokulpuri.
The ACP informed that he was injured in the riots. He was known to be a confident and brave officer and had been part of numerous raids conducted by the Gokulpuri police in the last few years.  The additional DCP Brijender Yadav while paying tribute to the fallen hero was quoted saying, "An outstanding policeman with indefatigable attitude and tremendous positive energy."
Ratan hailed from a middle-class family in Sikar, Rajasthan and he was the eldest sibling of his family. He lived in north Delhi, Burari along with his wife and three children. He was looking forward to celebrate Holi with his children. While interaction with the media, Lal's younger brother Dinesh said, "He was a patriot. He wanted to don the uniform from the very beginning. He had immense patience. We never saw him scream or shout at people. He last came over a month ago when a relative had passed away. I lost my brother today, but tomorrow it could be anyone else."
Ratan's colleagues were emotional and remembered him as being always volunteer for tough and risky project. "He was instrumental in nabbing the accused in a gruesome rape of two tribal women in 2013 and in an act of vandalism committed by a group of wrestlers at a restaurant in Seemapuri."
Family members of slain Delhi Police constable Ratan Lal has stopped the road leading to the village and demanded Ratan Lal to be given the status of a martyr. Senior officials tried to console the family members through interaction and convince the e family members to clear the road and allow the cremation of Ratan Lal. Delhi's Lieutenant Governor Anil Baijal led the wreath-laying ceremony to pay homage to Ratan Lal.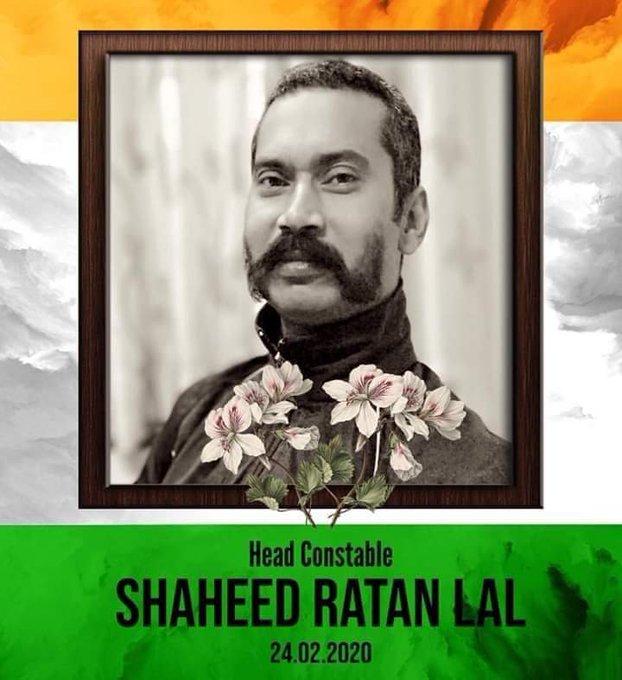 As of now, the death toll in Delhi violence has climbed to 20 on Wednesday. The High Court has informed Delhi Police to provide safety and immediate medical aid for all those who have been injured in the riot. Communal violence over the amended citizenship law worsened in Northeast Delhi. All private and government schools in Northeast Delhi has been closed today and as a result CBSE board exams scheduled in centres in the areas postponed.