We have been blessed to born in a nation where have many great women who bring us the hope that every girl has the potential to achieve whatever she wants to. They have risen to the top in their fields and are not only reminders of the legacy that they leave behind, but also guiding light of hope for future generations. In recent past we have been inspired by life journey of determined women from across India, make their presence felt in varied fields and their stellar achievements bring laurels to the nation. Such us Kalpana Chawla, Hima Das, Arunima Sinha, Mithali Raj, Sania Mirza, Saina Nehwal, Priyanka Chopra, Mary Kom, Indra Nooyi to name a few.
Today let's talk about another inspiring story of Captain Tania Shergill who is all set to become the first Indian woman 'Parade Adjutant' to lead an all-men contingent at an Army Day function in Indian Army. She is the fourth generation in her family to serve the Army and hails from Hoshiarpur. She was Commissioned in March 2017 from the Officer Training Academy, Chennai as well as done electronics and telecommunications from Nagpur University. While talking to the media was quoting saying "It was a feeling of great pride, a sense of accomplishment and worthiness, and pure blessing."
Twenty-six-year-old Tania Shergill is proud to the fourth generation in her family to serve the Army and recalled anecdotes of her great-grandfather who had taken part in World War I. "He (great-grandfather) was part of the Sikh Regiment. My maternal grandfather also belonged to the same regiment, while my paternal grandfather belonged to the 14th Armoured Regiment (Scinde Horse) and my father served in the artillery regiment. Army life runs in the family."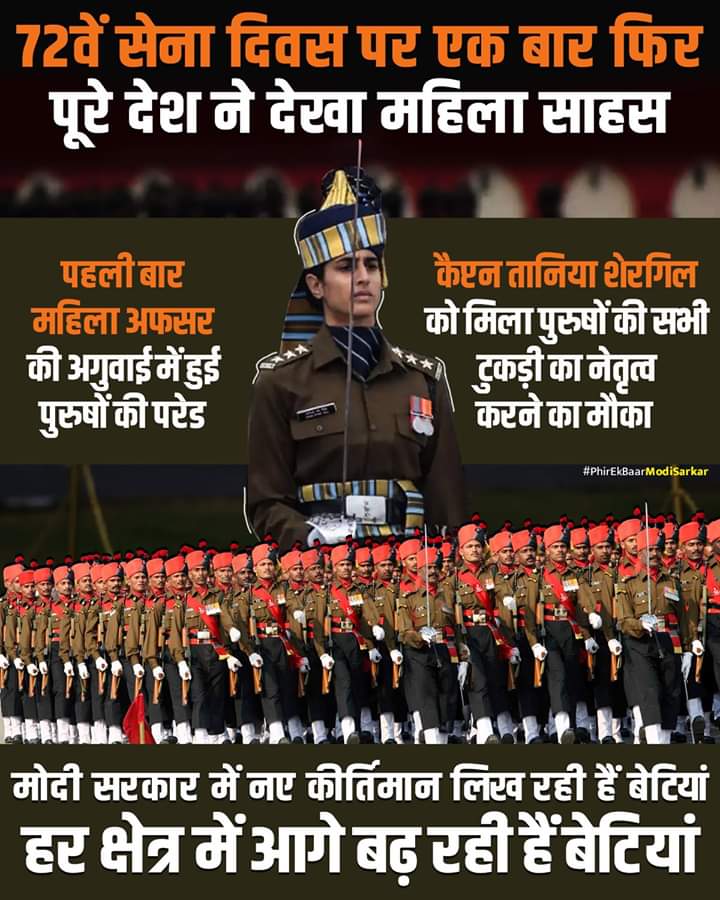 As per latest update Captain Tania Shergill, will be creating another record becoming the first woman parade adjutant for the Republic Day parade, sources said on Monday. Captain Bhavna Kasturi was the first woman officer to lead an all-men contingent in the last year's Republic Day parade. The Republic Day parade will get to see Infantry Combat Vehicle BMP-2K of the 18 Mechanised Infantry, Dhanush Gun System and the Army Air Defence on the Rajpath. Contingents of the Corps of Signals, Sikh Light Infantry, Kumaon Regiment, the Grenadiers, the Parachute Regiment will also take part in the parade.
Mahindra Group Chairman Anand Mahindra shared a video of Shergill and wrote "Now this gives me goosebumps. So incredibly inspirational. Tanya Shergill is what I'd call a true celebrity. THIS video should be trending…not just the Tik Tok variety.."