A shocking fact is that India has one of the highest rates of acid attacks in the world. The victims have a tough life as they need to face a lot of shame and are unable to support them finically. As per India's National Crimes Record Bureau record, 283 reported acid attacks, with 307 casualties have occurred in our country.
A gruesome attacks accident which shock the whole nation was Acid Attack on the 15-year-old girl, Laxmi Agarwal. The said incident occurred when a 32-year-old man threw acid on her for rejecting his proposal. She used to study music and Kathak dancer at the Sarvodaya Kanya Vidyalaya. Post the tragic incident she discontinues her education. But the ray of sunshine was that she stuck by the treatment and certain surgeries were live threatening as well as affected her mental health.
But this incident made Laxmi stronger and started a public awareness campaign and gather many signatures for the petition to ban sales of acid in the market and took this issue to the honourable Supreme Court of India. This also gave her the strength to fight the perpetrator to put them behind bars. She has been bestowed with International Woman of Courage award from Michelle Obama, wife of US's then-president, Barack Obama.

Since 2014, she started a foundation – Chhanv Foundation whose main focus is to provide help to the survivors of acid attacks. She is today happily married to her eco-activist from Stop Acid Attacks campaign, Alok Dixit and blessed with a daughter.
A while she was made brand ambassador Face of Courage and was quoted saying, "This opportunity to represent an apparel brand as a platform for me to set an example for women like me to be confident and have courage despite their physical appearances. This was also a platform for me to send a clear message to criminals that women will not lose courage even after they are attacked with acid to destroy their physical beauty."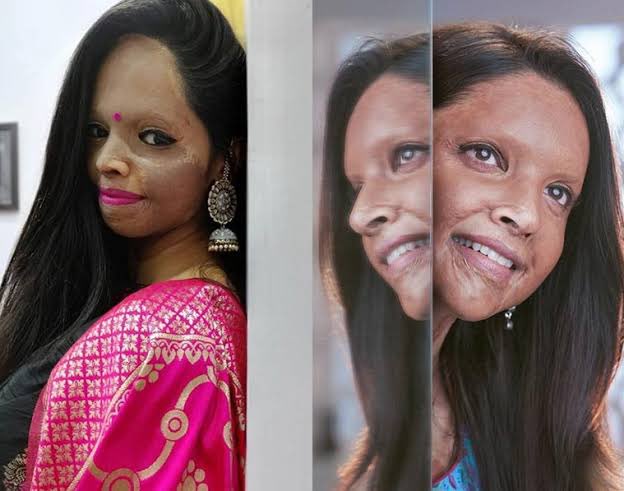 Her grit and determined is a message to the Acid Victim that "Acid attacks do not mean the end of dreams. Never give the people the satisfaction of seeing you suffer." The much anticipated Bollywood movie, Chhapaak featuring Deepika Padukone will give an insight into the life journey of Laxmi Agarwal and hope the movie bring about impactful to change the mindset of the people.

Deepika Padukone recently revealed the real reason for producing the movie and said, "It's not often when you come across a story where you have to sit through an entire narration. Usually, you have to sit through the entire process and then decide whether you want to do a film or not. It's not often when you come across a story where you know instantly in the first few minutes of meeting a director that it is. We have made the film with a lot of love, a lot of passion, a lot of enthusiasm and with a lot of responsibility."
Deepika Padukone and Laxmi Agarwal have been together promoting the upcoming film 'Chhapaak'. The acid attack survivor revealed that 'looks' and 'face' are not so important. She said "The film is bound to create more awareness and remove 'acid' from the minds of people who used it as a weapon to take revenge. Otherwise also, as and when some celebrity raises an issue, it becomes an issue of the society as people realise that someone from amongst them made the (acid) attack. They (people) will understand the life of an acid attack survivor instead of rejecting her or him."

The movie is being helmed by Meghna Gulzar and produced by her as well as Deepika Padukone in partnership with Fox Star Studios. The movie also features the talented actor, Vikrant Massey and is all set to hit screens on January 10.