Mohammed Shami is one of the finest right arm pacers to ever produce and plays for the Indian national cricket team. He hails from Amroha in Uttar Pradesh, India. His cricket journey hasn't been easy and worked very hard to overcome all odds to emerge as the go-to man of the Indian bowling attack. He comes from a very humble background, his father Tousif Ali is a farmer who wanted to play for the national side as a pace bowler. His father spotted the talent in his son, Shami at an early age and introduced him to Badruddin Siddique, who later became his mentor.

Shami made his debut against arch-rivals Pakistan and was held at Feroz Shah Kotla on Jan 6, 2013, and started with a bang by taking two wickets. He also is the fastest Indian to take 100 wickets in ODIs. He currently has 136 wickets to his name with an impressive economy rate of 5.5. Shami made his test debut against West Indies in Kolkata on November 6, 2013. He took the cricket community by storm by picking up d 9 wickets in the match, with a 5-wicket haul in the second innings. He also helped India won the match by an innings and 51 runs. Shami has taken 175 wickets in 91 innings of 470 matches at an average of 27.1 and an economy rate of 3.31.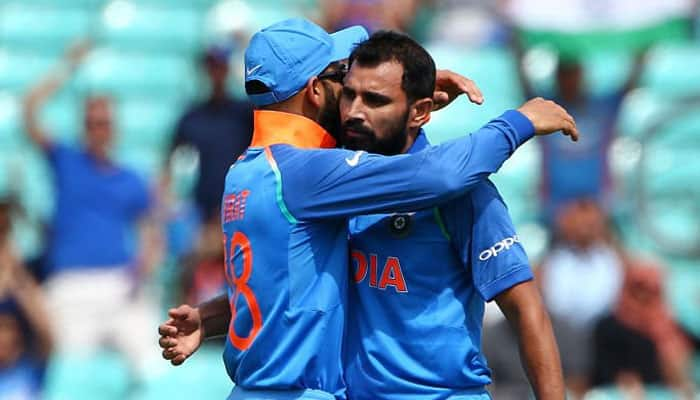 He is one of the lethal weapons in the arsenal of Indian Cricket Caption, Virat Kohli and regularly bowls around the 140 to 145 km/h and swings and seams ball at that pace which makes him a deceivingly effective fast bowler. Shami also became the 2nd Indian after Chetan Sharma to take a hat-trick in World Cups in the 2019 edition against Afghanistan in Southhampton. His superb bowing spell helped Team India Afghanistan by 11 runs.

Mohammed Shami has made a new fan in legendary batsman Sunil Gavaskar. Master Blaster recently Compared Shami with the legendary West Indies pacer Malcolm Marshall and said that thinking about him still wake him up from deep sleep. This complement will leave Shami morale and once again keep working hard to keep performing to the best of his ability. Shami has had an impressive year and has taken 42 wickets and in doing so become the best by any bowler in 2019. During a recent interaction with the media, Former India captain Sunil Gavaskar was quizzed who is his favourite Indian fast bowler and he named Shami. He was quoted saying that, "He reminds me of Malcolm Marshall, who still wakes me up from deep sleep."

Gavaskar walked down memory lane and once again credited that it was World Cup-winning captain Kapil Dev who revolutionised Indian fast bowling.
Gavaskar Compared Shami Baling stye to a leopard. the legendary batsman said that "When he is running in when the spider cam takes it, it is such a sight. It is almost like a leopard going for a kill."
Men in Blue held their nerve in the third and final one-day international against West Indies by four wickets to win the series 2-1 at the Barabati Stadium in Cuttack.
Indian cricket team will next play Sri Lanka in a three match T20I series commencing from 5th January.