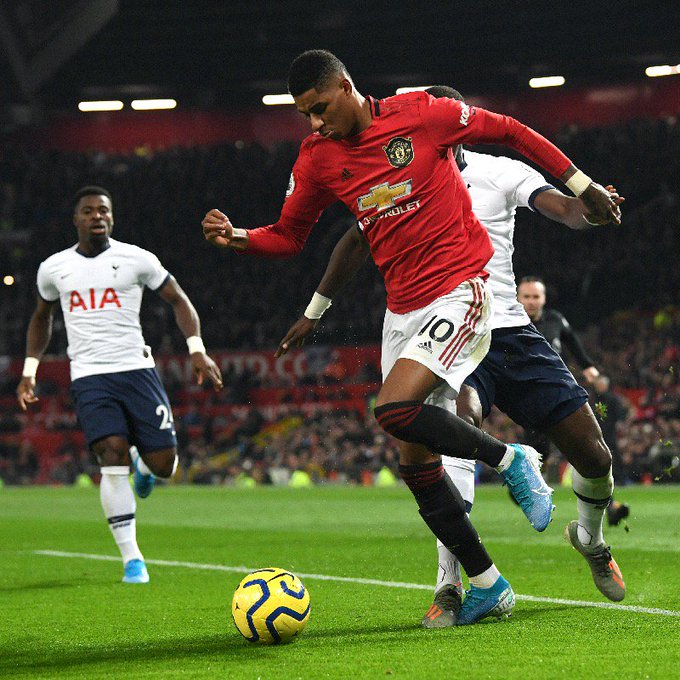 Manchester United is one of the revered clubs in the world and is there is no doubt that among all English clubs. In recent times Marcus Rashford has grown leaps and bound by coming into his own as a Manchester United goalscorer. The young player is the academy product who has scored on regular intervals this season and has has been hitting his groove over the last 12 months under Ole Gunnar Solskjaer. The youngster was also voted Manchester United's Player of the Month for November 2019, in appreciation of his significant form.
Marcus Rashford once came in the rescue of the team and defeating Tottenham Hotspur 2-1 at Old Trafford. Rashford scored double goals to ruin his former manager's Jose Mourinho Old Trafford visit with Tottenham Hotspur. The youngster took his tally for the 2019-20 campaign to 9 goals from 15 appearances this season. He opened the scoring with a powerful drive after just six minutes before scoring a penalty in the post-half-time.
The manager Solskjaer has been a lot of criticism of the poor start of a season since 1988-89, of the season with the win against spurs has brought much-needed reprieve ahead of the Manchester derby over the weekend and with last night victory Reds move up the Premier League table into the sixth position.
In the post-match conference, Solskjaer was quoted saying that, "The three points are massive for us. We've had too many draws this season and given too many points away from winning positions. "We've made decisions that we had to and we're looking to build this club to be better again and I can't think short-term when I'm trying to do that. When we turn the corner and win three or four games on the run, they will get that Man United feeling again."

Spurs manager, Jose Mourinho believed that his former club Manchester United deserved victory over his Team. He was quoted saying that, "I think they deserved the victory by their first half. We didn't start well at all," said Mourinho, whose side fell behind to a seventh-minute goal from Rashford. I think for the first 30 minutes they were the best team, and I think because of that, for this strong 30 minutes where we were not there, and also because of the way we conceded the second goal, I think they deserved to win."
The Portuguese manager was removed as united manager post two and a half seasons in charge, had words of encouragement for Rashford and said that "When he plays from the left he is dangerous and I knew that and gave the players the best information about it. His first goal is a typical Rashford goal coming on the inside. Our boys knew that."
The club is been struggling a lot on the pitch as well as facing club's financial situation isn't too good at present. Their arch-rivals Manchester City showed record revenues this year of $692.4 million, the eleventh consecutive year of growth under the ownership of His Highness Sheikh Mansour bin Zayed.
United's debt has increased by almost $181 million in their latest financial report — a 55.5% increase ever since last year. United spend big bucks in summer window by signing defenders Harry Maguire and Aaron Wan-Bissaka and forward Daniel James is considered to be a major factor but their performance is worth it.
Post leading English football for more than 20 years, United currently has less than half the points tally of fierce rivals Liverpool, who top the English Premier League. Football finance expert, Kieran Maguire was quoted saying that, "When Sir Alex Ferguson left the club in 2013, Manchester United owed $43.9 million to other clubs. In 2018 it was $333.7 million, which is a staggering rise. So many managers have come and gone, all bringing in different ideals and trying to sign different players … the club supported these managers and spent an awful lot of money on credit."
He further added that, "The likes of Alexis Sánchez, Ángel Di María, and to some extent Paul Pogba … who all cost a lot of money but haven't really delivered."
If United fail to qualify for the Champions League potentially cost United up to $77.6 million this year. On top of that, the gap in generating income between Manchester United and rivals Manchester City and Liverpool is narrowing.