Mohandas Karamchand Gandhi played a crucial role in empowering women in the society and fought for their rights and social evils such as child marriage and dowry system to name a few. To quote Gandhi Ji, "It is good to swim in the waters of tradition, but to sink in them is suicide". He was also quoted saying that "The wife is not the husband's slave but his companion and his help-mate and an equal partner in all his joys and sorrows – as free as the husband to choose her path." Also advocated that Women have equal mental abilities as that of men an equal right to freedom.
We have been blessed to born in a nation where have many great women who bring us the hope that every girl has the potential to achieve whatever she wants to. They have risen to the top in their fields and are not only reminders of the legacy that they leave behind, but also guiding light of hope for future generations. In recent past we have been inspired by life journey of determined women from across India, make their presence felt in varied fields and their stellar achievements bring laurels to the nation. Such us Kalpana Chawla, Hima Das, Arunima Sinha, Mithali Raj, Sania Mirza, Saina Nehwal, Priyanka Chopra, Mary Kom, Indra Nooyi to name a few.
Today let's talk about another inspiring story of Sub-Lieutenant Shivangi who became the first naval women pilot and has taken command of operational duties in the presence of top naval officials at its base. During interaction with the media, Sub-Lieutenant Shivangi was quoted saying that, "It is a very proud feeling for me. It is a different feeling…being the navy's first woman pilot. Women were always there in the Navy. They were not in the cockpit, but were just observers. I have been craving for this for a long time. It is a great feeling."
Her appointment as the first to be the pilot in the navy will encourage and will create more opportunities for other to join the defence force. She recieved her 'qualification wings' from the chief of Southern Naval Command Vice Admiral AK Chawla. The Navy officer hails from Muzzafarpur, and will be flying the Naval Dornier surveillance aircraft.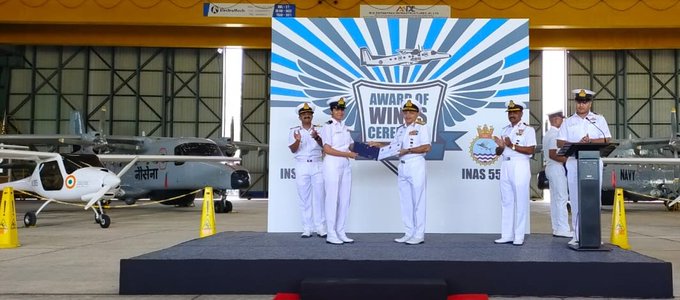 Shivangi has been trained in flying Pilatus PC 7 Mk II, Basic Trainer at AFA and completed Dornier Conversion with the Indian navy in Kochi. Currently she is training at at INAS 550, the Dornier squadron at INS Garuda, to become a fully operational pilot on Maritime Reconnaissance (MR) aircraft. During the interaction with the media, she revealed that it was her dream of becoming a olit ever since childhood. She was revealed that dream first started when she sawa chopper carrying a minister landed in the neighbourhood of her grand parents' place in Bihar during her childhood. Whille remembering the memory she was quoted saying that, I got 'super-inspired" when I saw the helicopter and the man flying it. My family is supportive and they never questioned my wish to join defence forces. In fact, they were proud."

Shivangi also had special message for Navy staff and Qualified Flying Instructors and said They have always encouraged me. She along with two more trainee offiers of the 7th Dornier Conversion Course (DOCC) also qualified as Dornier pilots and were honoured with the coveted golden Wings at the ceremony. All the selected pilots will join the Dornier Operational Flying Training course at INAS 550 from mid- January 2020, prior to joining an operational maritime reconnaissance squadron.