Sourav Ganguly is one of the prolific cricketers to don the national jersey. He was known for his authoritative, influential, and daring captain who changed the way the cricketing world perceived India. He is lovingly known as the 'Prince of Calcutta'. They might be few controversies which took place during his international career but no one takes away his achievements.
BCCI President Sourav Ganguly played an important role in convincing India skipper Virat Kohli to agree to play a pink-ball Test against Bangladesh. The main reason behind the Historic Day-Night Test to Rejuvenate Test cricket and will be held at iconic Eden Gardens today when India and Bangladesh play their maiden Day-Night Test match.
Due to the uprising of T20 leagues around the world, interest in Test cricket was waning off. The ICC approved the introduction of Day and Night Test matches. Cricket Association of Bengal ave leaving no stone unturned to make the Test match a special one for the fans, who will be coming to watch the match at the stadium. The match will start with ringing of the customary Eden Bell by Bangladesh West Bengal chief minister Mamata Banerjee and Prime Minister Sheikh Hasina.
As per latest update while the super break will be going on CAB has organised a talk show featuring the 'Fabulous Five' of Sourav Ganguly, Sachin Tendulkar, Rahul Dravid, Anil Kumble and VVS Laxman who will walk down the memory lane and entertain the fans talking about the importance of Test Cricket.
Former Indian Captain took to social media and wrote, "Well BCCI and Cricket Association of Bengal (CAB)… look forward to 5 days @JayShah."
Indian cricket team under the leadership of Virat Kohli has scaled new heights in all aspects of the games. India has maintained its position at the top of the table of the International Cricket Council's World Test Championship. He and Team India Coach Ravi Shastri have created a culture where everyone thinks about the team, not about one's performance.
During a recent interaction with the media, Indian captain Virat Kohli shared his view of day-night Test cricket to become the long-form's staple diet. He believes that direction will dilute the sanctity of the game which is testing the ability and temperament of a cricketer.
Indian captain Virat Kohli was quoted saying that, "This shouldn't become the only way Test cricket is played. Because then you are losing out on that nervousness of the first session in the morning. You can bring excitement to Test cricket, but you can't purely make Test cricket based on entertaining people. The entertainment of Test cricket lies in the fact that the batsman is trying to survive the first session, the bowlers trying to set up a batsman; if people don't respond to that, too bad."
Virat Kohli also added that "We are excited about the pink-ball Test anyway. The last time Eden had such a buzz, such excitement, was before the India-Pakistan T20 game (in 2016). There too you had VIPs and they were felicitated and the stadium was packed. I think the atmosphere will be similar. It can be daunting, intimidating, but very exciting as well. As it is, playing with the pink ball is not that easy and bowlers will get a boost. I think the first hour will be very exciting because energy levels will be very high and the public will get what they paid for. This is a landmark occasion in Indian cricket, and we are lucky that we are part of this start."
BCCI president Sourav Ganguly believes that day-night Test cricket is the "way forward". But Kohli shared his view and was quoted saying that, "If I don't like Test cricket, you can't push me into liking it. If someone gets excitement or boost from watching the battle between bat and ball and a great session of Test cricket, in my opinion, those are the people that should come and watch Test cricket. I think this (day-night Test) can be a one-off thing (in a series), it should not be a regular scenario."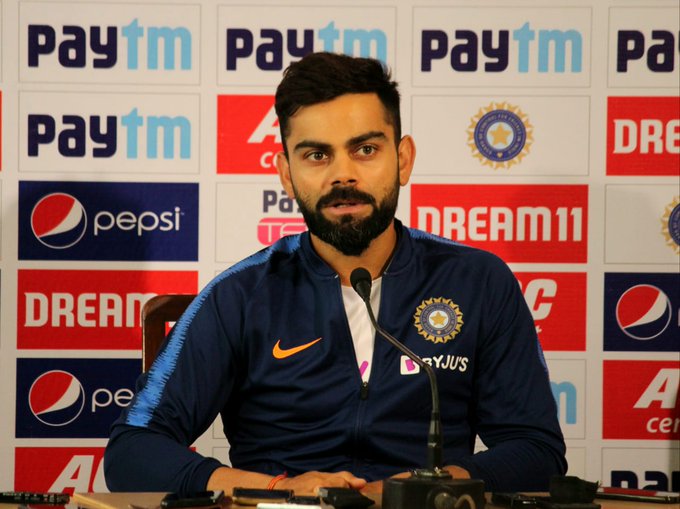 Indian Captain further added that. "One before the Test could be a pink-ball practice game. If it's second or third Test, I would ideally like to have a longer break between the two Tests and have a practice game before the pink-ball Test whenever that is, obviously under lights. It can't be a pink-ball practice tour game before the series and the Test is the third game. That wouldn't make any sense."
The CAB will also felicitate many Indian sports stars such as Sachin Tendulkar, Olympic champion Abhinav Bindra, tennis star Sania Mirza, world badminton champion PV Sindhu and six-time boxing world champion MC Mary Kom to name a few. Also, will honour the team members of Bangladesh-India who played the first-ever Test in 2000 in which Ganguly made his debut as Test captain of the national side. 
2nd Test Squad: India vs Bangladesh
Bangladesh: Shadman Islam, Imrul Kayes, Mominul Haque (capt), Mohammad Mithun, Mushfiqur Rahim, Mahmudullah, Liton Das (wk), Nayeem Hasan, Abu Jayed, Al-Amin Hossain, Ebadat Hossain
India: Mayank Agarwal, Rohit Sharma, Cheteshwar Pujara, Virat Kohli (capt), Ajinkya Rahane, Ravindra Jadeja, R Ashwin, Wriddhiman Saha, Ishant Shama, Umesh Yadav, Mohammed Shami