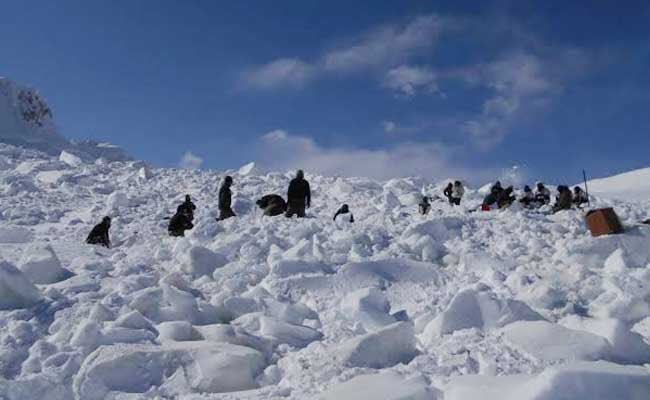 Siachen glacier is the largest single source of fresh water on the Indian subcontinent. Ever since the  partition between India and Pakistan the relation between the two has always been on thin ice. This is the actual reason why Siachen is strategically important for India as it is the highest battleground on the face of globe, situated in the freezing valleys of Kashmir has been the hotpot where the clashes and tension have been on all-time high.

The tough landscape has claimed many lives ever since India established control and securing more than 1,000 square miles (3,000 square km) of territory. Till Monday, 3 pm a group of eight persons, consisting of six Army personnel, were struck by the avalanche at an altitude of 19,000 feet. As per latest development four Indian Army personnel and two porters died after an avalanche hit their post, Raising number of death at the world's highest battlefield where not a single death has happened due to a bullet wound since 2003.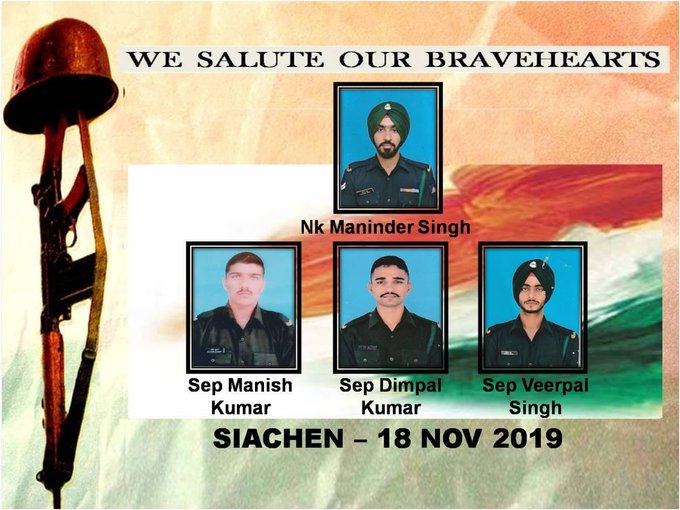 The bodies of the Armymen will be flown out of Ladakh today in an Air Force aircraft post the local units have payed homage to them. Indian Army personnel were killed in an avalanche in Siachen Glacier are Manish Kumar, Veerpal Singh, Dimpan Kumar and Maninder Singh. They are still some Army Jawans who are stuck under the snow. Rescue and recovery operations was started immediately by the army troops. Only two Army personnel survived the avalanche. Mortal remains of Army men will reach Air Force station in Chandigarh, today. Post that, the remians will be taken to their native places in Punjab and Himachal Pradesh.
As per stats ever since 1984 more than 860 Indian soldiers have lost their life in Siachen and the reason being climatic conditions, environmental and other factors. Army Chief Gen Bipin Rawat i briefed Defence Minister Rajnath Singh about the situation on Siachen Glacier. "Raksha Mantri Shri @rajnathsingh spoke to the Chief of Army Staff, General Bipin Rawat regarding the tragedy in Siachen. CoAS has apprised RM of the ground situation in Siachen."
"Deeply pained by the demise of soldiers and porters due to avalanche in Siachen. I salute their courage and service to the nation. My heartfelt condolences to their families."
The father of Sepoy Veerpal Singh, Kirpal Singh was quoted saying that, "My elder son sells timber wood, but Veerpal always wanted to be a fauji. I too did not stop him from fulfilling his desire. He had been recruited 20 months back. I had no idea he will come like this," The last massive incident occurred around three ears ago when when an avalanche hit the Siachen glacier in which around 20 troops lost their lives.
Lance Naik Hanumanthappa survived for almost over 7 days after remaining under snow but he also succumbed to injuries later.