Deepak Chahar is an Indian cricketer who was born on 7th August 1992 and hails from Agra, Uttar Pradesh. The right-arm medium pacer who bats right-handed down the order and is known for his ability to swing the ball in both directions which made him a stand-out performer in his debut Ranji campaign. A lot of changes has happened in the life of Deepak Chahar in the last two years and his stock is on the rise. He was recently started playing for the national side in the T20I format. The young gun has left no stone unturned to sustain his place in the squad. "Hard Working" are the only two words you will come across on reading Deepak Chahar's bio on Twitter. But a close look at his career over the years would reveal why he chose those exact words.
He has gone through a lot struggle during his career, he was rejected by the then director of the Rajasthan Cricket Association academy, Greg Chappell, in 2008. The bad luck didn't stop here as he suffered a spate of injuries over the next three seasons, but he never stopped working hard and always came back as a better version of himself every time.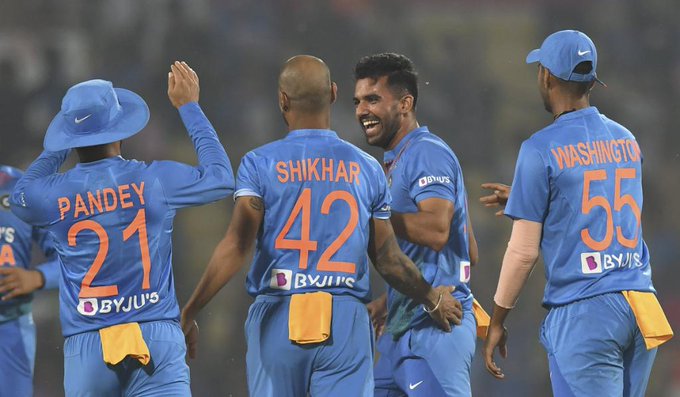 This was proved yesterday when Deepak Chahar etched the name in history books by becoming the first Indian bowler to take a T20I hat-trick when he achieved the rare feat during the third T20I Vs Bangladesh. His sensational spell of 3.2-0-7-6 in the third T20I against Bangladesh led to earning the best figures in a men's T20I and sealed a 30-run win against Bangladesh to win the three-match series.
In doing so broke the previous record which was held by Sri Lanka's Ajantha Mendis. His magical spell with 6-7, which is also the best-ever bowling figure in the history of T20 International games. He beat Ajantha Mendis' record of  6-8 on Sunday during the decider match vs Bangladesh.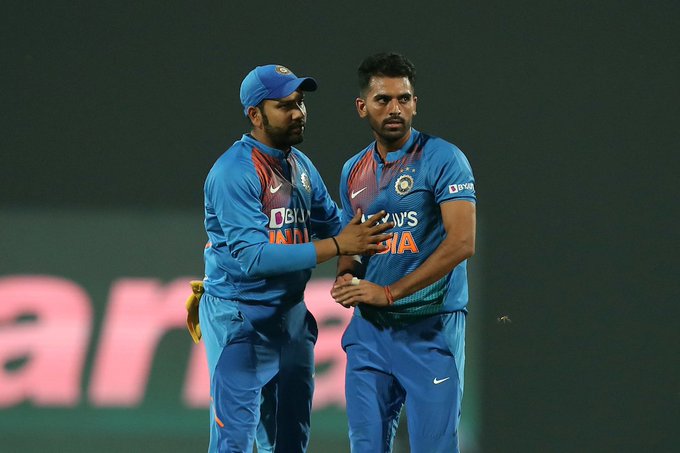 He was awarded Man of the Match and Man of the Series for his invaluable contribution to the Stand-In Captain Rohit Sharma-led Team. During the interaction with the media, Chahar revealed message given by his captain Rohit Sharma and was quoted saying that, "The plan was that I would get the responsibility of bowling the main overs," Chahar said during the post-match presentation. "Usually I bowl with the new ball, but Rohit bhai said I'll bowl the crucial overs today, whenever the team needed me to bowl. I'm happy that the management gave me this responsibility at this stage."
Indian bowlers with hat tricks:
Tests: Harbhajan Singh, Irfan Pathan
ODIs: Chetan Sharma, Kapil Dev, Kuldeep Yadav & Mohammed Shami
T20Is: Deepak Chahar
During the interaction with the media also revealed if he sees himself playing the 2020 World T20 tournament and was quoted saying that, "One year is a big target. You can't focus on that but you just keep it in the back of your mind. Getting into the Indian team and making a permanent place is a difficult job. You have to perform in every match. I take every match as my last match because I know if I don't do well in two or three matches, bowlers are coming along."