Manchester United is the biggest club in the world and their Old Trafford home is known the Theatre of Dreams by one of their greatest legends, Sir Bobby Charlton.
Manchester United is one of the most reputed clubs in the Premier League and based in Old Trafford, England. It's not necessary whether you're a football fan or don't know the first thing about it, Manchester United is one club you surely must have heard of. The club boast of royal fans following across the world and royalty matched by none. The Club has produced great players with superb skills who enthralled the football fans whether played for the club or while representing their country.

The club has come a long way ever since its inception and wasn't originally even called Manchester United. The club was formed in the year 1878 and was known as Newton Heath L&YR Football Club. The team was represented by Lancashire and Yorkshire Railway Company in which there the team's player worked.

The club was purchased by Glazers for £790million almost 14 years ago. The club was going through a lot financial issue a local brewer came to the rescue in 1902 and Manchester United were born, with the now-famous red and white team colours replacing Newton Heath's green and gold.
Manchester United created another record last night by becoming the first-ever team to score 2000 goals in the Premier League. This was achieved by Scott McTominay vs Norwich City on Sunday in an away game which United won 3-1. The young lad Post-match conference was quoted saying that, "For sure, that's a record I knew about before the game – [that we were on] 1,999 [goals] and I'm delighted to get the 2,000th."
He further added that, "It's about pushing forward now and not getting carried away as a group and keeping that humbleness to show the same intent as we have in the last two games against Liverpool and Norwich in the Premier League and that attitude to be humble enough to go and get after your opponents. We did today and it showed as well."
The result would have been different but superb goalkeeping by Norwich Dutch goalkeeper Tim Krul who made two penalty saves to deny Marcus Rashford and Anthony Martial. The triumph was United's second away win in almost seven months.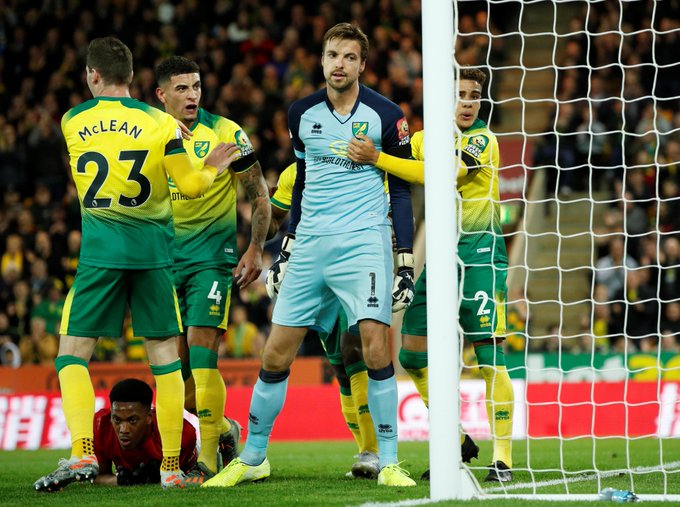 Marcus Rashford has scored his 50th goal for Manchester United last night match and reached the landmark in his 183rd game – five fewer than it took Cristiano Ronaldo. Manchester United took to social media and wrote, "He bagged his 50th #MUFC goal and @MarcusRashfordbelieves the Reds can build on today's comfortable victory…"
The match against Norwich was united's 1,04th in the tournament. Here are some interesting facts for all the United fans:-
1. The first-ever goal for United was scored by Mark Hughes
2. 500th Goals was netted by Andy Cole in 1999.

3. Andrei Kanchelskis scored their 100th PL goal, against Wimbledon in November 1993
4. Cristiano Ronaldo bagged the 1000th goal in 2005.
5. Dimitar Berbatov scored 1500th six years later.
United is also the first-ever PL club to have 1000 home goals and are way ahead of their competitors in the list of the most goals in the league's history. Arsenal holds the second position with 1,858 goals while Liverpool with 1,795 completes the top-three.

Manchester United have won more trophies than any other club in English football, with a record 20 League titles, 12 FA Cups, 5 League Cups and a record 21 FA Community Shields. United have also won three Champions Leagues