Virat Kohli has displayed true qualities of how leaders should be both on and off-field. He is known for wearing his heart on his sleeves and is very passionate to win every game. Virat Kohli has over the years has elevated his game over the career spanning 11 years and counting. In his professional career, there has been a lot of ups and downs but thin which has been his self-belief in his skills and putting in hard work in whatever he puts his heart into it. Indian Captain, Virat Kohli become the only cricketer in the world to score more than 20,000 international runs in recently concluded series against West Indies.
The sudden change came in 2011 and from there has been no looking back for Delhi born Player. He performed superbly at the Ranji as well as India level. All his hard work led to him being selected in the squad for the World Cup 2011 and captivated in the finals as he played a crucial knock against the Lankans. He scored 183 against arch-rivals Pakistan in the Asia Cup a year later, which was followed by two impressive hundreds against Australia at home in 2013 which cemented his place as one of the most sensational talents.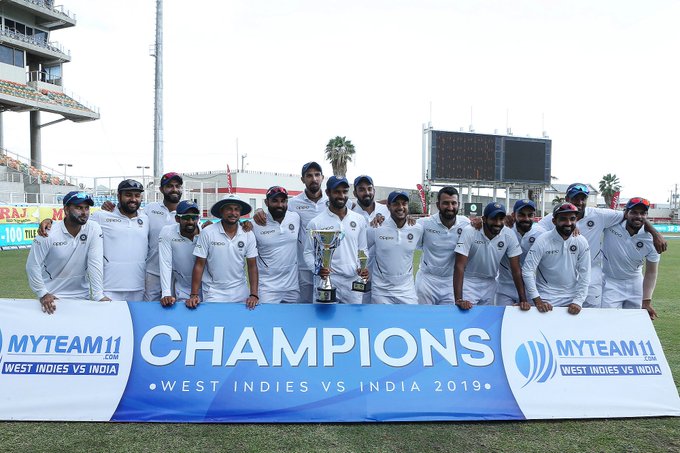 Indian Test Captain has time and again spoken on the importance of motivating the youth and supporting them to fulfill their dreams. As a result, he started Virat Kohli Foundation (VKF) in 2013 and the Athlete Development Programme (ADP) in 2017 whose sole purpose is to find talented youth and work with them very closely so that they can reach their goals and also make the country proud by performing well at the international tournament.

During the media interaction, Virat Kohli had revealed the real reason of starting the foundation and was quoted saying that, "It is my dream to do whatever I can to help my country become a sporting superpower. There is tremendous talent in our nation and it is important to create an environment that will motivate children to grow, not only as sportspersons but also as professionals and human beings."
The foundation gives financial aid to athletes who are of remarkable aptitude, to provide them with the resources to go and chase their dreams. The foundation has pledged a minimum of Rs. 2 crores to be used every year on the recipients of the scholarships. The shortlisted sports-persons progress will be tracked through the year and monitored too.
Under the programme, eight young athletes had been shortlisted from different sports and their training, coaching, competition, fitness and nutrition all taking care by the organisation. One of the recipients, Sumit Nagal came into the limelight when he played vs Tennis legend Roger Federer at the US Open 2019 and created history by becoming the very first Indian Tennis player to win a set against the veteran Swiss player.
Sumit Nagal was quoted saying that Virat Kohli's foundation has been supporting me since 2017. I haven't been performing well for the last two years and was facing a financial crisis. If I didn't have Virat Kohli supporting me, I don't know what I would have done."
Kohli took out time from his hectic work schedule to interact with the players and took to social media to upload a picture on social media. He wrote, "It was a special day interacting with the #ViratKohliFoundation athletes. With discipline, determination and dedication we can scale great heights in becoming a sporting nation. The future of Indian sport is truly bright. See you soon."
During the interaction with the media opened up about Virat Kohli opened about his vision for his Football Club, FC Goa and was quoted saying that, "something I am doing at the moment with my foundation is the athlete development programme. This is a big part of the FC Goa plans too, with the academy and the structure that we are trying to create. We want to develop players who will play for FC Goa and hopefully go on to represent the national team. Those are things that excite me. Those are things where I would like to spend my energy. I want to not just be seen at the stadium but be at the grassroots level, where I want to make an impact. If the system is in place, the sport is in a good state. That's going to be one of my priorities (after retirement). Football will take a lot of my attention because I am involved with FC Goa, but for sports in general, I want to contribute in such a manner that people benefit at the grassroots."


On the work front, India Test Caption is all set to lead Team India in the home Test series against South Africa which commences on October 2 and looking forward to helping India continue their supremacy in the World Test Championship.