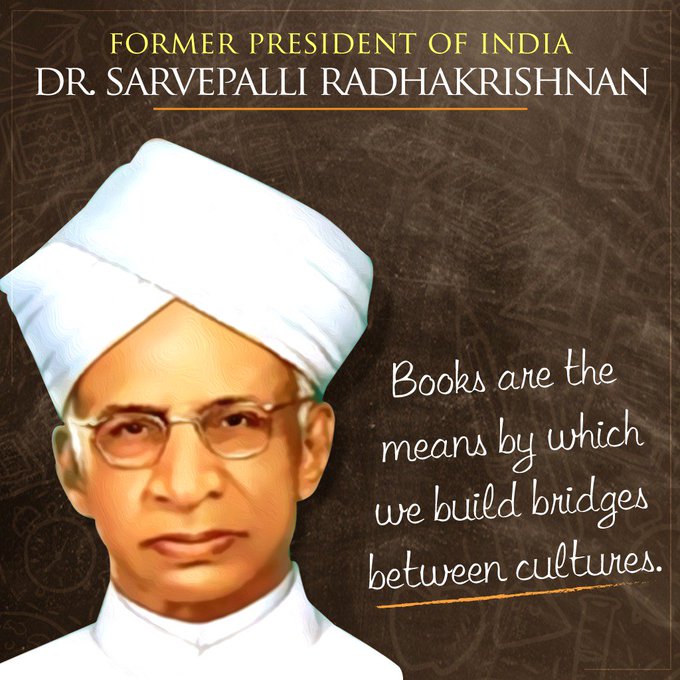 Today the whole is celebrating Teachers days all across the nation. Let us remember the great scholar, philosopher, teacher and former President, Dr. Sarvepalli Radhakrishnan on his Birth Anniversary.
The First Vice President and second President of independent India was born into a Telugu household. He has also penned down a book titled 'The Philosophy Rabindranath Tagore'. He held a master degree in philosophy and was very well known in the field of Indian philosophy. He had a long spell of teaching at Chennai's Presidency College and Calcutta University. Also from the duration of 1931-1936, served as the Vice-Chancellor of Andhra Pradesh University. He was also invited at Oxford to teach Eastern Religions and Ethics in 1936, a position he held for 16 years.


Every year on 5 September since 1962, Teacher's Day is celebrated on his birthday to remember his work. The day holds a special place in the hearts of the Students and teachers alike as functions are held for teachers in various in the institutes ranging from schools and college. To make the day special for the teachers, students perform spoofs and even perform for their gurus. The main purpose is to remember and remind the crucial role teacher's play information on students' lives and careers.
Teachers instill values, principles, and ethics in us, and these teachings shape us to the person we become in the future. They also play a crucial role in society as they help to shape the mindset of the future generation of the country. Educators help hone the skills and character of the students which wills to become a law-abiding citizens. The real gift for teachers is when students become a good human being, successful in their respective careers.
Prime Minister Narendra Modi Ji had a special message for the teaching community on the occasion of Teacher's Day. He captioned, "शिक्षक दिवस के अवसर पर सभी शिक्षकों को हार्दिक शुभकामनाएं। Teachers Day greetings to everyone. India pays tributes to Dr. S Radhakrishnan, an exceptional teacher, and mentor, on his Jayanti."