Father of the nation, Mohandas Karamchand Gandhi played a crucial role in empowering women in the society and fought for their rights and social evils such as child marriage and dowry system to name a few. To quote Gandhi Ji, "It is good to swim in the waters of tradition, but to sink in them is suicide". He was also quoted saying that "The wife is not the husband's slave but his companion and his help-mate and an equal partner in all his joys and sorrows – as free as the husband to choose her path." Also advocated that Women have equal mental abilities as that of men an equal right to freedom.



This gave wings to the movement of women empowerment and inspired the next generation. We have been blessed to born in a nation where we have many great women who bring us the hope that every girl has the potential to achieve whatever she wants to. They have risen to the top in their fields and are not only reminders of the legacy that they leave behind, but also guiding light of hope for future generations.
In recent past we have been inspired by life journey of determined women from across India, make their presence felt in varied fields and their stellar achievements bring laurels to the nation. Such us Kalpana Chawla, Hima Das, Arunima Sinha, Mithali Raj, Sania Mirza, Saina Nehwal, Priyanka Chopra, Mary Kom, Indra Nooyi to name a few.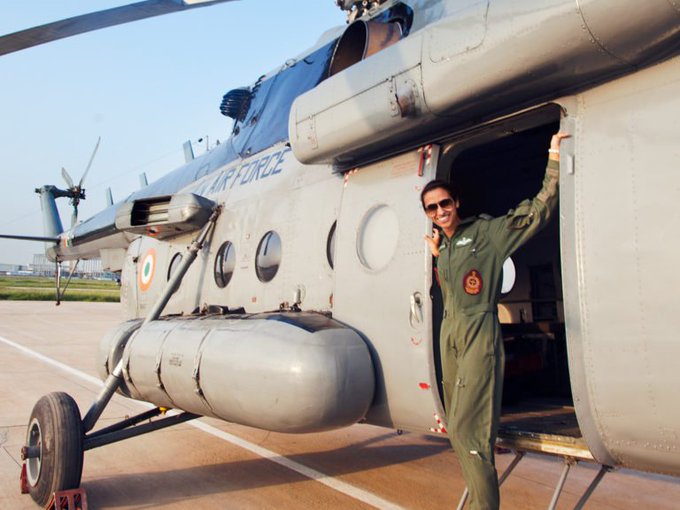 Today let's talk about another inspiring of Wing Commander Shaliza Dhami who created history by becoming the Flight Commander of a flying unit. As per the ranking goes Flight Commander is the second in the command of the unit.

The brave Air Officer has been serving the Indian Air Force for the past 15 years and has been flying choppers. She achieved feet by becoming the first woman flying instructor of the Air Force and is also the first woman officer to get permanent commission of the flying branch.
She took over as Flight Commander of a Chetak helicopter unit at Hindon airbase in Ghaziabad, Uttar Pradesh. Chetak is a single-engine turboshaft, light utility helicopter with a capacity of 6 passengers and a maximum speed of 220 km/hour.


A representative of the Hindustan Aeronautics Limited (HAL) was quoted saying that, "The helicopter is suitable for commuting, cargo/material transport, casualty evacuation, Search and Rescue (SAR), Aerial Survey and Patrolling, Emergency Medical Services, Off-shore operations, and underslung operations."
After a long journey of fighting stereotypes to be included in combat roles, women are getting their due. Here we would like to remind a few memorable moments which showed how times are changing for the good and continue to inspire generations to come. :-
In July, 2018, IAF had decided that it will induct women as fighter pilots.
In May, Flight Lieutenant Mohana Singh scripted history by becoming the first woman IAF pilot to become operational on Hawk advanced jet aircraft.
On 19 February, Avani Chaturvedi had become the first Indian woman to fly MiG 21 Bison, solo.
This comes after a had-fought legal victory was achieved in 2010 when a high court verdict granted women officers the right to permanent commissions.